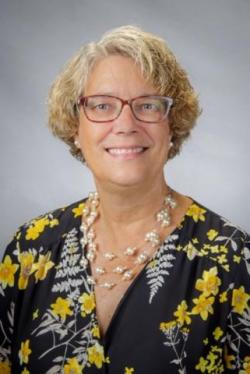 Sandra Bastin
Extension Professor

(859) 257-3707
203A Funkhouser Building
Lexington KY 40506

Dietetics and Human Nutrition
Professional Profile
After eight years of administrative service in the College of Agriculture, Food and Environment, both as Chair of the Department of Dietetics and Human Nutrition and Associate Dean of the Office of Faculty Resources, Planning and Assessment, Dr. Sandra Bastin returned to the department as an Extension Professor in 2019. She is a Registered and Licensed Dietitian Nutritionist, Certified Culinary Educator with the American Culinary Federation and National Restaurant Association Educational Foundation Certified ServSafe® Instructor/Proctor. She strives to provide innovative student learning experiences, research and scholarly opportunities and unique Extension nutrition education programming and outreach. Dr. Bastin provides leadership, technical expertise, program development, research and grant writing support in nutrition diet and health; food safety; food preservation; and entrepreneurial food manufacturing for Cooperative Extension County Agents and fellow Kentuckians. Her research interests include food systems from farm to table. She is honored to have provided mentorship for many excellent Faculty and undergraduate and graduate students at the University of Kentucky.
Dr. Bastin is a Rotary International Paul Harris Fellow and a Southeastern Conference Academic Leadership Development Program Fellow. She is a two-time University of Kentucky Wethington Research Award winner, with over $3 million in grant funding from CDC, USDA, EPA and NIHES. Since the beginning of her career, she has continued to receive numerous awards from organizations such as the Kentucky Academy of Nutrition and Dietetics (KAND), National Extension Association of Family and Consumer Sciences (NEAFCS) and Kentucky Association of State Extension Professionals (KASEP). She believes in giving back to the community and can often be found serving along-side her students. She loves cooking with her children James, Liza, Victoria and Justin. She also loves traveling with friends (especially to Italy), flying with her husband Ronnie, swimming, quilting (she has gifted over 50 quilts and prayed blessings over every stitch) and walking her golden doodle Savannah!
Dr. Bastin is presently teaching DHN 241 Foodservice Sanitation but has taught DHN 342 Quantity Food Production (Lemon Tree), DHN 408G Seminar in Nutrition and Dietetics and DHN 605 Food Systems and Society, in the past.
Course Instruction
DHN 241 Foodservice Sanitation
Research
Gathering data on health effects of purchasing foods from farmer's markets

Food safety perceptions of farmer's market vendors
Education
Ph.D. University of Kentucky Food Science
M.N.S. University of Kentucky Nutritional Sciences
B.S. University of Kentucky Dietetics Administration
Areas of Interest
Academics, Extension