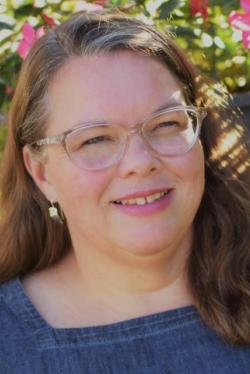 Melinda McCulley
Extension Specialist

116 Erikson Hall
Lexington KY 40506-0050

Family and Consumer Sciences Extension
Professional Profile
Mindy was appointed the Extension Specialist for Instructional Support with Family and Consumer Science Extension in November 2015. She manages the peer review process for FCS Extension publications and curriculum. She also coordinates social media materials to support programming and personnel for FCS Extension. Finally, she serves to facilitate rapid research/evidence-based responses to trending media topics affecting the well-being of individuals and families.
Mindy served as the County Extension Agent for Family and Consumer Sciences in Barren County for 17 ½ years. While in Barren County, she worked closely with various community groups to strengthen the family units in Barren County. She has always been interested to utilizing technology to enhance program delivery and improve clientele. Her interests evolved into strengthening the local food systems through her work with Sustainable Glasgow and the Plate it up! Kentucky Proud project. Prior to returning to Kentucky, she served as a Regional Specialist with University Outreach and Extension in the University of Missouri System.
As an active member of the National Extension Association of Family and Consumer Sciences, Mindy has been recognized on the state and national level for her work with social media, tv and print media, photography, marketing and reaching diverse audiences.
Mindy and Craig (her husband of 21 years), are the proud parents of two young men, Joshua and Matthew.
Education
B.S. Family Studies - Individual & Family Development
University of Kentucky College of Home Economics
M.S. Family Studies - Family Resource Management
University of Kentucky College of Human Environmental Sciences
Areas of Interest
Extension