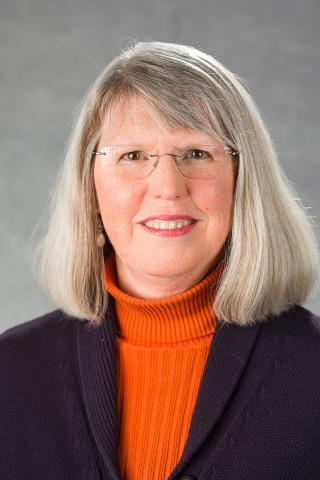 Ms. Louise Gladstone has been part of the UK community since she began her undergraduate career. Before joining the then College of Home Economics in 1978, Ms. Gladstone worked in the Registrar's Office for one year.  As the current Student Services Director in the College of Agriculture, Food and Environment Center for Student Success in Erikson Hall, she has played a critical role in implementing change within the School of HES and has impacted the lives of students.
1)      Share a little about your background.
Prior to my time at the University of Kentucky, I grew up in Mayslick, Kentucky and went to Mason County High School. Growing up, I was the oldest of nine children and the only girl. This, along with living on a farm, taught me the value of hard work and the importance of responsibility.
I earned a bachelor's degree from the University of Kentucky in Human Development and Family Relations (what we now know as Family Sciences). I have always loved studying young adulthood and the developmental processes.
I have always enjoyed reading a good book. As a child my favorite thing was to sit under a tree and read. Louisa May Alcott and Kentucky author Barbara Kingsolver are among my favorite writers.  
2)      You have been able to see multiple changes within the college over the course of your career. What do you think the School of Human Environmental Sciences offers students now that perhaps it did not 10 years ago?
The college provides scholarships to a broader base of students today, provides plenty of opportunities for leadership development, and the programs have become more refined and specialized.
3)      Your office is now called the Center for Student Success. How do you help students get the most out of their time at UK?
Within my role in the Center for Student Success, I am able to help students keep their eye on the end and help them seek opportunities to achieve their goals. For seniors especially, I work with them as they explore the different career pathways their major provides. Encouragement and consistent contact play a huge role in helping me build relationships with students. I want to provide them with information so they keep a clear vision, do not overload themselves and are able to finish their undergraduate career with numerous doors opened for them.  
4)      What has been the most rewarding part of your career?
Each student has a unique story. I love hearing their stories and watching them grow into young professionals. Perhaps the best part of all is watching a student that has worked so hard to overcome the challenges they have faced and see their smile as they find the major that fits their interests or a job that they love. The joy on their face is the most rewarding part of my career.
5)      Outside of your role as the Student Services Director, you are also the advisor to the Iota Chapter of Phi Upsilon Omicron (Phi U). Describe your experience as an honor society advisor.
In 1988, I received Honorary Membership into the honor society. I have been an advisor to the Iota Chapter for 31 years, and served on the National Council from 2001-2005. Throughout my involvement, I have been very grateful for the students and alumni in Phi U. Over the many years I have spent in this society, I have had the opportunity to work with a top notch group of students and have been able to get to know people at other institutions. Phi U has challenged me and helped me grow in a positive way.  In return, I hope I have been able to invest back into my students what Phi U has invested in me.
6)      If you could share one piece of advice for students entering the School this fall, what would it be?
I advise students to take advantage of all of the opportunities, both campus and cultural, that Lexington offers. It is important to get involved in a couple of organizations, stay on campus at least 2 weekends a month, and engage in the community. There are so many wonderful things to be part of and participate in. Being a student is your top priority, and these experiences will serve as a great compliment to your formal education.