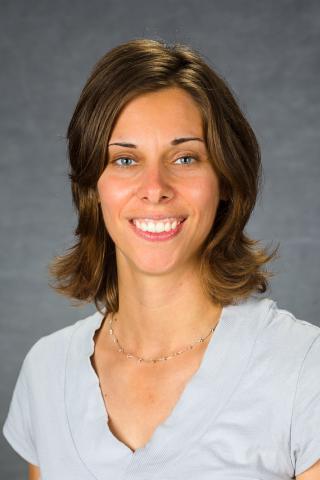 The Department of Dietetics and Human Nutrition is excited to welcome Dr. Dawn Brewer to the faculty.  Dr. Brewer recently completed a fellowship with the Centers for Disease Control and Prevention (CDC).  Her experience included work at CDC headquarters in Atlanta, Georgia and a placement with the West Virginia State Health Department in Charleston, West Virginia.  There, Brewer's main focus was in the Division of Health Promotion and Chronic Disease (obesity, diabetes, heart disease, asthma, cancer, arthritis and osteoporosis). 
Dr. Brewer received her undergraduate degree from Penn State University.  Her time at Penn State provided her first taste of college-level teaching through her work as an undergraduate teaching assistant.  From there, Brewer moved to Iowa to complete her dietetics internship through Iowa State University.  She then moved to Athens, Georgia to pursue a master's degree at the University of Georgia.  As a master's student, Brewer worked as a teaching assistant and taught two summer classes in 2008.  Her experience inspired her to continue her education at Georgia and complete her doctoral degree.  She worked as a research assistant during her time as a doctoral student.
As a lecturer at UK, Dr. Brewer will teach dietetics and human nutrition courses and serve as director of the didactic program in dietetics.  When asked to share her favorite aspect of teaching, Dr. Brewer stated, "I like to take complex concepts and break them down for students to understand."  Dr. Brewer looks forward to exploring Lexington and UK's campus, and meeting her students.  The School of Human Environmental Sciences is pleased to welcome Dr. Brewer to the faculty.