Summer marks the time to move our cooking from the kitchen to the backyard grill. However the food, we choose to grill especially meats, may be determined by our budget and ability.  This month on "It's About You", Dr. Gregg Rentfrow, UK College of Ag Assistant Extension Professor in Meat Science provides tips about the best cuts of meat for the outdoor grill and discusses the importance of keeping our food safe throughout the grilling experience.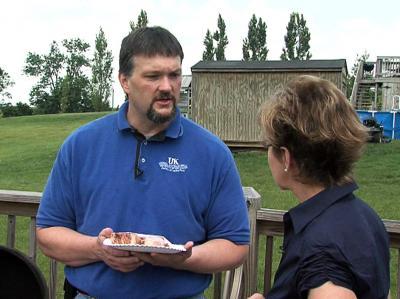 Core Messages:
Meat is usually one of the most costly food items so choose your cuts of meat wisely. Remember price per pound is not the whole story-look at price per serving to get the real cost. Boneless meats will provide approximately four servings per pound while meat with bone and fat will provide three servings or less.
Buy large cuts of meats or whole chickens when the price is right and cut them into serving sizes for several meals. If you can't use your purchases within two days, properly wrap and freeze for later use.
Purchase the right cuts of meats for grilling for the best results. Look for cuts of meats labeled Rib, Loin, or Sirloin, as they are tender and good for dry heat (grilling). However, there are three exceptions to this rule, the Flat Iron, Chuck Eye Steak, and the Shoulder Tender Medallions Remember the supermarkets arrange meats together that are suitable for grilling.
Good cuts of meat require little seasoning. Use seasonings (salt & pepper or herbs) only to enhance the natural flavor of the meat. Marinades are also an option, but remember to marinate meat items in the refrigerator. If you need to tenderize a cut of meat, marinate for at least 6 hours. The marinade must have an acidic ingredient (vinegar, lemon juice, wine or yogurt) to "breakdown" the fibers of the meat.
Follow food safety guidelines when grilling!

Always use a clean platter to serve your cooked meat to prevent cross contamination from the platter holding the raw meat.
Keep raw meat and poultry and their juices away from other foods.
Never chop vegetables on the same cutting board that you've used to trim raw meat or poultry.

The most essential tool beyond the grill is a thermometer to insure that meat products are cooked to the proper temperature. Instant read probe thermometers or digital cooking probe thermometers are good choices. Remember, ground burgers and pork must be cooked to 160⁰F; poultry to a minimum of 165⁰F to ensure you are serving safe food. Whole muscle meats, such as steaks and chops can be cooked to 145⁰ F or less depending on preferred degree of doneness.
Keeping "hot food hot" and "cold food cold" is the secret to a perfect backyard grilling experience!