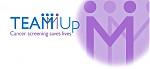 During the last three years, nine counties in the eastern region of Kentucky have been involved in a partnership to increase the number of women screened for cervical and breast cancer. The project is Team Up, and is collaboration between the Cooperative Extension Service, National Cancer Institute, Kentucky Cancer Program, and the Centers for Disease Control. The primary role of Cooperative Extension has been to bring community groups together and deliver educational information so that the numbers of rarely or never screened women would increase.
Family and Consumer Science Agents in the nine counties coordinated their efforts and decided to focus on three major areas of opportunity: local and regional media, client communication, and provider education. A media tool kit was developed based on the needs of the local communities, as well as a teaching curriculum. One aspect of the curriculum was a train-the-trainer module focusing on breast cancer.  Extension leaders were trained to deliver educational information during their respective community meetings.
Many positive outcomes have been realized through the Team Up project. Local cancer coalitions have been developed, relationships between Extension and other local health agencies have improved, and materials have been developed for future use.  Greater access to mobile mammography units in East Kentucky has been achieved, and local leaders are making plans for continuing efforts to provide the opportunity for cancer screening.
The following family and consumer sciences extension agents have been engaged in this project:
Theresa Scott, Floyd County

Pam Dooley, Powell County

Ann Hollon, Wolfe County

Martha Yount, Breathitt County

Brenda Cockerham, Johnson County

Gwenda Adkins, Elliott County

Stephanie Derifield, Lawrence County

Brooke Jenkins, Magoffin County

Stephanie Crum, Martin County
Additional collaborators within Cooperative Extension included Deborah Murray, Associate Director of the Health Education through Extension Leadership Program, and Chuck Stamper, East Regional Program Coodinator.