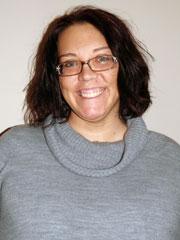 Amanda Justice - Family & Consumer Sciences Student Teacher
Amanda Justice is working to complete her masters in Career, Technical & Leadership Education. She shared her experiences as a Family and Consumer Sciences student teacher with us though an electronic interview:
Where are you completing your student teaching?
Lafayette High School and EJ Hayes Middle School
What is your typical day as a student teacher like?
"Each day student teaching brings on new challenges and new lessons to be learned. Teenagers are moody and how the day goes depends on the mood of each of my classes."
What is one of the things you learned as a student that you use often as a student teacher?
"Every teaching method that was ever mentioned in a college class. Keeping the attention of students all day is quite a feat, so I like to change up how I'm teaching constantly."

If you could share one piece of advice for other students in you major who are preparing to complete their student teaching what would it be?
"Keep every resource that relates to teaching as you go. You will use everything at some point."