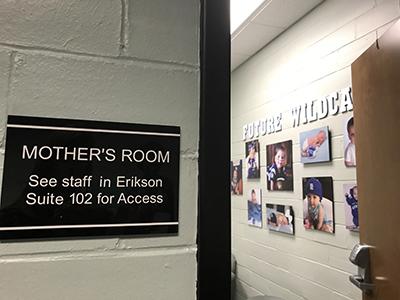 Students, faculty and staff in Erikson Hall and the nearby University of Kentucky community now have access to a specially equipped lactation space. The School of Human Environmental Sciences has established a mother's room on the second floor of Erikson Hall. The goal of the space is to provide breastfeeding mothers with a relaxing, private space.
The idea for creating a designated space initiated with Dr. Ann Vail, Director of the School of Human Environmental Sciences. She shared, "We strive to support families. Providing this space for mothers is one tangible way we can show that support."
The wall décor in the new mother's room features infants and toddlers with close connection to the School. Faculty and staff in the School, along with Family and Consumer Sciences Extension agents from across the state, were invited to send photos of their infants and toddlers to decorate the space. "In the early stages of planning for the room, we were encouraged to include photos of infants and toddlers in the décor," shared Kim Henken, Director of Communications. "It was exciting to provide a personal connection by inviting our colleagues to share photos of their children and grandchildren."
Faculty, staff and students can gain access to use the space through the main office for the School of Human Environmental Sciences located in 102 Erikson Hall. Additional information is available by calling 859-257-3887.
View additional photos of the space and the open house held September 22 at: https://flic.kr/s/aHsm4MUtch
Contact: Kim Henken, 859-257-3887