Internship Spotlight: Rachel Hart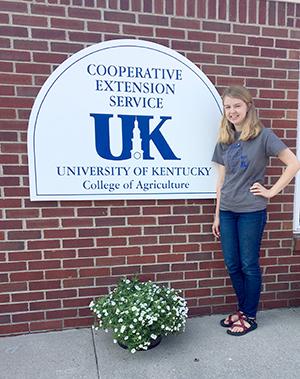 Name: Rachel Hart
Major: Family Sciences
Expected graduation date: May 2018
Internship Location: Woodford County Cooperative Extension
Please describe your typical day as an intern:
On a normal day, I start by checking emails. Each morning, I also take time to catch up on things from the previous day. Then, I usually do any task my supervising agent has for me. This could be a assisting with materials for an upcoming program, leading or assisting in a workshop or project day, or creating promotional materials for a program. It varies day to day. Some days, I'm in the office all day working at my desk, while other days I am out in the community working. On days when my supervising agent does not have urgent tasks for me to complete, I will often assist the other agents and staff with their projects.
How are you using and applying classroom knowledge in your internship?
Last semester, I took the FAM 360 class called Introduction to Family Intervention: Working with Families and Individuals. The curriculum we covered discussed how family science students are on track to become helping professionals. While I might not be working in a counseling profession, I am still able to apply many of the strategies we learned in my internship as I interact with those in the Woodford County community, including coping with stressful situations and active listening.
What is one key thing you have learned during your internship?
I have learned to get outside my comfort zone. Whether I am making phone calls to 4-H Camp parents or going to a state livestock judging contest when I knew nothing about livestock judging, these experiences have given me unique learning opportunities. Each day I have been challenged with exploring and finding more about who I am and who I want to be.
If you could share one piece of advice for other students who are preparing to complete an internship, what would it be?
My advice would be to begin scheduling yourself now. It can be strange going from a college student's schedule of intermittent classes each day to a consistent 8 hour work day.