Internship Spotlight: Melanie Monroe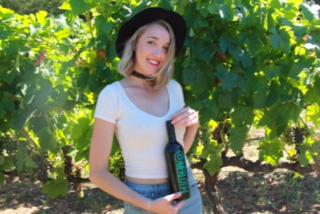 Name: Melanie Monroe

Major: Hospitality Management Tourism

Expected Graduation Date: May 2017

Internship Location: Deerfield Ranch Winery in Kenwood, Sonoma County, CA

Please describe your typical day as an intern:
I come into the office and spend my morning working on marketing and sales. I usually post photos or statuses to social media sites, write/edit press releases, and make calls/emails to customers to push sales. In the afternoon, there is usually some kind of event that I am either working, helping to prepare or cleaning up.

How are you using and applying classroom knowledge in your internship?
I have applied much of what I learned in HMT 570, as it focused on event planning. The course gave me some experience going into this internship, so I am better prepared during events if and when something comes up. In addition, it taught me how to solve problems quickly and effectively while staying organized and on top of things. The other class that has helped a lot is HMT 308. I am glad I had an opportunity to learn about restaurant management and layouts before spending the summer working alongside the general manager of an upscale winery tasting room. I learned how to avoid certain problems and to evaluate risks.

What is one key thing you have learned during your internship?
I have really learned that as a manager you CANNOT micromanage your employees. You must hire people that you trust are capable of getting their jobs done themselves. If they cannot handle the job, then they cannot work for you.

If you could share one piece of advice for other students who are preparing to complete an internship, what would it be?
No matter how challenging or easy your internship is, you are ALWAYS getting something out of it. If your internship was a breeze and you feel as though you weren't challenged, then focus on capitalizing on a good reference and networking. If your internship is not as positive, focus on learning as much as possible through the experience and network as much as possible. The glass is always half full!