Internship Spotlight: Julia Roshberg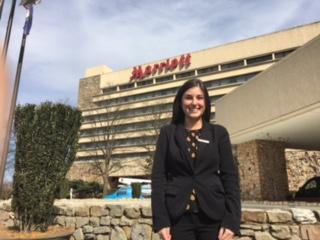 Name: Julia Roshberg
Major: Hospitality Management and Tourism
Expected Graduation: May 2016
Internship Location: Griffin Gate Marriott Resort and Spa in Lexington, KY
What is your 'typical day' as an intern?
My days can vary depending on what part of the front office I am working in. However, I mostly work in the At Your Service department answering all phone calls—both in and out-of-house calls—to the hotel. It is a lot of transferring calls to the correct department, figuring out any issues the guest has/had, and changing reservations, etc.. When I am working the front desk, I primarily check guests in and out while also answering any questions the guests may have when they come to the front desk. Both jobs require a lot of computer training with our PMS system.
How are you using and applying classroom knowledge in your internship?
My customer service skills I learned in school have definitely helped me at my internship. I have to utilize these skills every day since it is extremely important to make the guests' experience a positive one. Also, learning and gaining knowledge of hotels has helped me better understand what goes into the entire industry.
What is one key thing you have learned during your internship?
During my internship I have learned that challenges will happen every day. I face challenges all the time but through that I learn something new every day from making a mistake and correcting it or learning something from someone else. I believe it is important not to get your confidence down when this happens and take it as a stepping stone to your success.
If you could share one piece of advice for other students who are preparing to complete an internship, what would it be?
I would suggest students should try different things during their internship and not just be stuck doing only one job. Also, I would recommend asking your supervisor or manager if you can shadow people in different departments simply to gain experience. This can help you figure out what you are good at and what it is you would like to do in the future.