Internship Spotlight: Jori Gates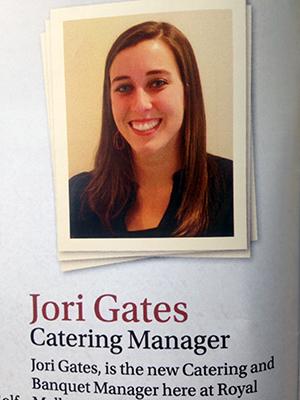 Name: Jori Gates Major: Hospitality Management and Tourism
Expected Graduation: August 2015
Where are you completing your internship? Royal Melbourne Country Club
What is your 'typical' day as an intern?
As the Catering Manager, a typical day is normally very busy dealing with the food and beverage side of the club and executing banquets. I manage a staff of 20-25 employees and after the final sale of the event has been made, the event file is passed off to me. After I receive the file, I ensure the event is set up and staffed properly and executed as the contract indicates.
How are you using and applying classroom knowledge in your internship?
I use the knowledge I have gained in my hospitality major at UK daily, whether it is on the business side of the operation or the food and beverage side. I apply strategies I have learned from Dr. Swanson in F&B, from the many teachers in our strategic management classes, and event strategies we learned from Dr. Day.
What is one key thing you have learned during your internship?
I have learned how to serve as both a manager and a leader to my staff and how to execute events by taking full responsibility for anything that may go wrong.
If you could share one piece of advice for other students who are preparing to complete an internship, what would it be?
I would highly advise to take your internship, if you can, the summer before your senior year. It is a disadvantage in many ways to take it after you have graduated.