Internship Spotlight: Cornelius Cotton, Jr.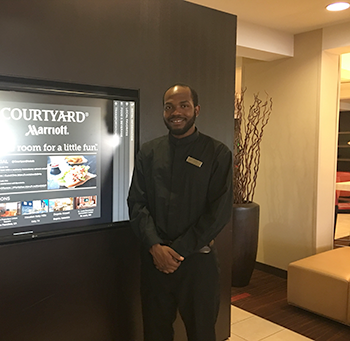 Name: Cornelius Cotton, Jr.
Major: Hospitality Management and Tourism
Expected Graduation Date: August 2016
Internship Location: Courtyard by Marriott, Lexington, Kentucky
Please describe your typical day as an intern:
I open and work the bistro daily. In addition, I cover the front desk, assisting guests with questions and reservations.
How are you using and applying classroom knowledge in your internship?
Every day I apply classroom knowledge. I know the reason why tasks are done a certain way due to my education. My classroom knowledge allows me to work smarter not harder.
What is one key thing you have learned during your internship?
You have to push continuously for your own development in an organization. Hard work pays off, and perseverance is the key.
If you could share one piece of advice for other students who are preparing to complete an internship, what would it be?
Go into the internship with a positive attitude because every day will not be perfect. Being friendly and respectful will take you a long way in the hospitality industry.