Internship Spotlight: Alison Salazar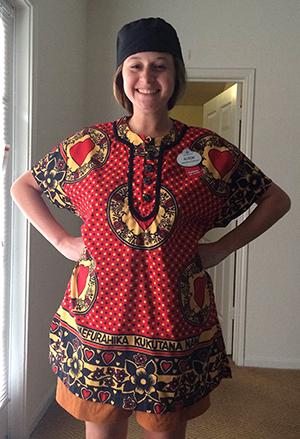 Name: Alison Salazar
Major: Hospitality Management and Tourism
Expected Graduation Date: December 2016
Internship Location: Walt Disney World, Pop Century front desk and Animal Kingdom, Harambe Market Quick Service
Please describe your typical day as an intern:
Typically, I begin each morning by clocking in and finding out what my assignment is. Other cast members and I will immediately begin opening Harambe Market and have our pre-work meeting. After, we have our opening chant and will have a guest ring our bell to officially start the day. Harambe Market is open 11 a.m. to 7 p.m. and each cast member stays moving the entire time. Cast members stock, fill drinks and orders and running to other locations to fill what they are missing. We have to make sure we keep up with everything to make sure our guests have a magical experience when they
are at Animal Kingdom.
How are you using and applying classroom knowledge in your internship?
I use a lot of my food and beverage knowledge during my internship. Not only do I have a background in this area, but I also took the class that really taught me different things about different food locations. We use FIFO all the time to make sure that everything our guests are getting is fresh and safe to eat.
What is one key thing you have learned during your internship?
You have to be flexible and willing to learn a new position. There are different rules and regulations in each place to ensure your safety and the safety of your guests.
If you could share one piece of advice for other students who are preparing to complete an internship, what would it be?
Talk to as many people as you can because you never know who may connect with by just having a conversation. You have to be willing to step outside your comfort zone and try something new. Also, never be afraid to ask questions—it is better to ask than do something wrong.