Internship Spotlight: Rachel Ditto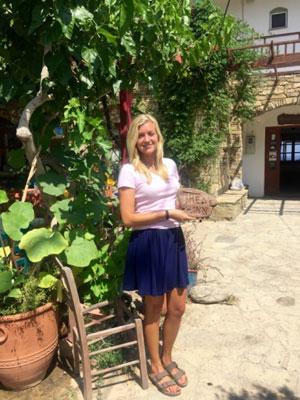 Name:  Rachel Ditto
Major: Hospitality Management and Tourism
Expected Graduation: December 2015
Where are you completing your internship? Thea's Inn and Restaurant (Nas, Ikaria, Greece)
What is your 'typical' day as an intern?
No two days are quite the same. Like the locals, it begins somewhat later than at home due to cultural differences. I begin by serving breakfast to the Inn guests and often go to the garden. Occasionally, I run errands to the store, work on social media or I may visit with the guests. Another cultural tradition is eating dinner late, which I assist in serving in the evenings.
How are you using and applying classroom knowledge in your internship?
I have been able to apply many of the skills I have learned in the classroom while here. Working in the kitchen has enabled me to use the food and beverage skills I have acquired. I have been able to utilize my computer/marketing skills while working on Thea's blog and website. The communication and people skills I have learned have been an asset, as I have had the opportunity to meet a diverse cross-section of people while on the other side of the globe.
What is one key thing you have learned during your internship?
My biggest takeaway from this experience is the importance of flexbility. You have to "roll with the punches," especially in the hospitality business. Working in a different culture with people who speak a different language can be challenging, but it has taught me that you have to adapt to any given situation. I make mistakes, but I view them as opportunities and I'm learning more about myself and others because I have gotten out of my "comfort zone."
If you could share one piece of advice for other students who are preparing to complete an internship, what would it be?
Don't limit yourself to a specific internship/ placement. I could have worked at a hotel or restaurant near home and I'm certain it would have been beneficial. However, being in a completely different culture has been both a wonderful learning experience and an adventure. Explore your options and take advantage of the opportunity to learn about hospitality in a new place.
Additional Comments:
I think it is so important that we have to complete an internship before graduating and that we have the opportunity to pick where to complete it. This experience has already provided me with more confidence, greater communication skills and a network of people around the world.