In May, Dr. Hyungsoo Kim, Department of Family Sciences, and Chef Bob Perry, Department of Dietetics and Human Nutrition, led a group of students on a two week study tour to Japan and South Korea. The study tour had a focus on the family unit, consumerism, and culture. During their time abroad, students were able to gain a broader perspective on how other cultures manage and fund educational institutions, care for the elderly population, define gender roles, and prepare foods.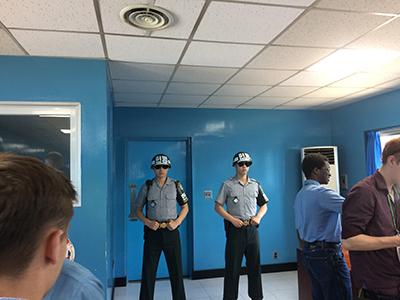 After landing in Japan on May 10th, the group spent 12 days soaking in the sites, tours, lectures, and food around them. All in all, they were able to briefly study how individuals in each culture live at the stages of the family life cycle. They visited a nursing home to gain a better understanding of how the increasing life expectancy rates and increase in people above the age of 65 are being addressed.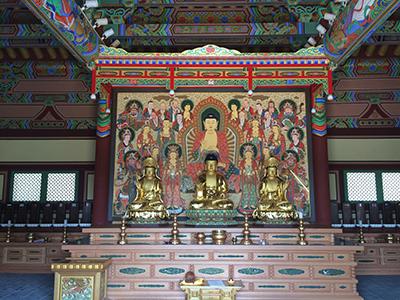 One of the biggest surprises for students came at Wonjong Elementary School. They were shocked to see the high quality and efficiency of the preparation of the meal served to the students at lunch and to learn that nutrition is a top priority and all students receive free lunch at school in South Korea.
Additionally, the group took a cooking class to learn how to prepare a Japanese meal, visited the food market street in Kyota, watched the Namsadang show live, and took a tour of the Demilitarized Zone (DMZ) and the Joint Security Area at Panmunjom (JSA).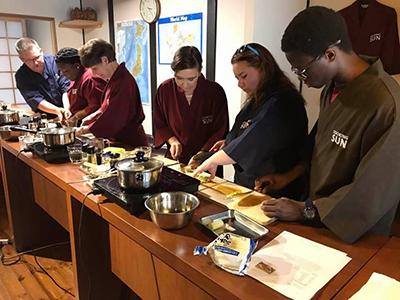 Chef Perry shared, "I hope that students learned to appreciate other cultures and how to critically look at their own culture in comparison and their place within it. While in Japan, students noticed that the culture is more community based and focused on teamwork; whereas, they are familiar with the independent work and self-thought base of American culture. This helped students reflect on the Japanese and Korean cultures and see where they can implement what they learned in their own lives."
Khalil Appleton, a student who participated in the trip, stated, "This experience allowed me to gain perspective on how different cultures perform tasks in different ways. I was able to see how new opportunities can become available when you look at other cultures to learn how to make a change, versus starting simply from scratch. I loved observing their habits and asking questions that provided me with the reasoning behind what they do."