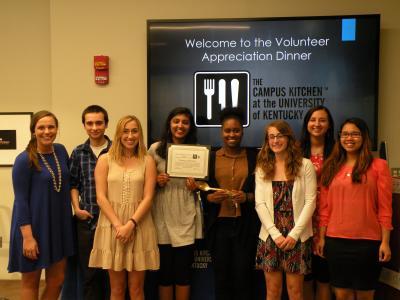 The Campus Kitchen at the University of Kentucky has been named the 2016 Campus Kitchen of the Year. The Campus Kitchens Project (CKP) national office recently announced awards at the third annual Food Waste and Hunger Summit at the University of Arkansas in Fayetteville, AR.
Founded in 2011, the Campus Kitchens Project is the leading national nonprofit empowering students to fight hunger and food waste.
The Campus Kitchen of the Year is selected from 51 Campus Kitchens across the nation. The honor recognizes the Campus Kitchen that excels not only in safe and efficient operations, but in community partnerships, participating in the CKP network, volunteer engagement and more. 
For the entire news release, click here.
Contact: Terrance Wade, terrance.wade@uky.edu, 859-257-8716; Carl Nathe, carl.nathe@uky.edu, 859-257-3200.