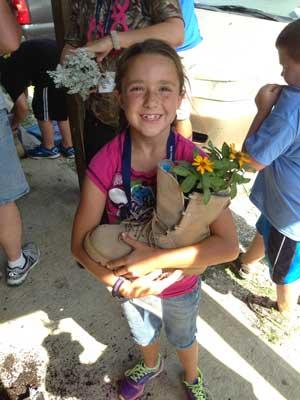 Applications are now being accepted for the 2015 Kentucky Military Family Camps coordinated through Family and Consumer Sciences Extension. Military families from any state and branch are invited,including Active Duty, Reserve and National Guard. The camps are targeted to military connected youth/families who have a parent/loved one in any phase of the deployment cycle.
The "Mammoth Military Family Adventure" will take place June 12-14, 2015 at Mammoth Cave Hotel. To attend, the family must have at least one child ages 5-18.  A second camp targeted to families with at least one child ages 5-18 will be held July 10-12, 2015.  The "Live Your Adventure Military Family Camp"  will take place in Woodford County, Kentucky at the Life Adventure Center.  Both of these camps are funded through a partnership of the Department of Defense, Office of the Secretary of Defense, Military Community & Family Policy, Office of Family Policy/Children and Youth, and U.S. Department of Agriculture/National Institute of Food and Agriculture.
A special camp for families with children age 6 and under will be held June 26-28, 2015. The "Robinson Forest Military Family Early Childhood Adventure"  will be held at UK's Robinson Forest near Jackson, Kentucky.  Families with children 6 and under are eligible to attend. This camp is funded by the Kentucky SEED Project (Kentucky's System to Enhance Early Development).
Families who are Active Duty, Reserve, National Guard, Department of Defense civilians and Department of Defense contractors from any state who will be, are currently or have been deployed in support of an Overseas Contingency Operation are eligible to participate. Families involved with Warrior Transition Battalion and with Exceptional Family Member program are especially encouraged to participate. First priority will be given to families who have not previously attended a Kentucky camp and who have experienced at least one deployment.
The application packet is available at http://fcs-hes.ca.uky.edu/content/military-family-programs. The same application packet can be used for any of our 3 camps offerings for 2015. Camps fill quickly, so early applications are encouraged. Questions regarding any of Kentucky's camps can be sent to Tyrone Atkinson at tcatki2@uky.edu.
In addition to the Kentucky camps, a number of military youth and family camps are being offered throughout the country in 2015. To find out more about the offerings across the country, visit the 4-H Military Partnerships website. Requests for additional information and/or camp registration details should be addressed to the point of contact listed for each camp.