Summer is a busy time for HES students to complete internships. This series will spotlight students and their intern experiences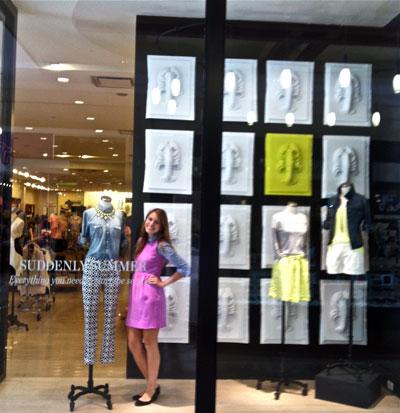 Name: Amy Mittenzwei
Major: Merchandising, Apparel, and Textiles
Internship Location: J. Crew at the Fayette Mall in Lexington, Kentucky
What is your typical day as an intern? Doing an internship in Visual Merchandising offered a wide variety of tasks throughout the week, varying day to day, which kept my internship very interesting! When I came into the store, I usually had a specialized task that dealt with visuals such as styling the mannequins, helping set up the windows, or creating visual displays around the store. I assisted my Visuals Manager with whatever tasks needed to be done to keep the store in great condition as well as helped provide customer service when needed.
How are you applying classroom knowledge in your internship? I was able to see a lot of information that I learned in MAT 237 be put in place throughout the store. Different techniques of displays in windows and throughout the store were a lot easier to implement since I knew the terminology through MAT 237 as well. Preparing for floor sets I also used several techniques that I learned in my earlier merchandising classes focusing on the flow of the store based on table placements and where certain merchandise is located.
What is one key thing you have learned during your internship? I learned to improvise. Sometimes when putting together visual displays or floor sets, there were guidelines sent from the corporate headquarters that weren't feasible for our store to do. In cases like this, we needed to be creative with supplies on-hand and do what we think worked best in our store environment. It left a lot of final decisions up to the visuals team which made it a great experience.
What advice would you share with other students who are preparing to complete an internship? Be willing to work hard and go above and beyond what is asked of you. Internships can lead to great job references or even a permanent position after you graduate!