College students from the UK Student Dietetic Association (SDA), UK Hospitality Management Association (HMA), and UK and EKU student units of the American Association of Family and Consumer Sciences recently joined together to host a fall festival for autistic children. The event took place Saturday, October 29, at St. Michael's Church.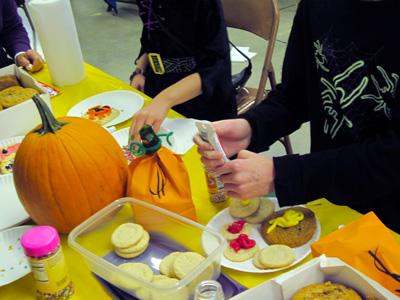 Each student organization involved was in charge of various activity stations. These included cookie decorating, face painting, beading, ping pong, Wii games, mini basketball, homemade Halloween costumes, pumpkin decorating, corn hole, putt putt, pin the tail on the turkey, and karaoke. Laura Tincher, a volunteer from the SDA, remarked, "It was a great experience! There wasn't a single kid without a smile on their faces." Refreshments were also offered to the children, including plenty of cookies, scones, and breads donated by Panera Bread and Great Harvest Bread Company.
About fifty children were in attendance, including children with autism, Down syndrome, and other learning challenges.  Additionally, students from the Saturday school for English as a Second Language attended.  This event was geared toward creating an environment where children could practice their social skills, have fun, and give parents a little bit of a break.  One of the Cardinal Valley teachers said, "My Saturday Special Needs class looks forward every year to this event. The parents feel this is a great social time for the kids and also a good learning activity."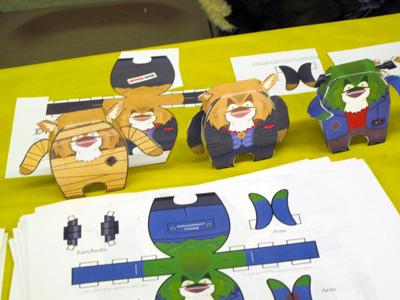 One parent stated, "Every year we look forward to participating in the Fall Festival held by the Autism Society of the Bluegrass. The kids like the fact that college students are there to work with them. All the activities are so appropriate and such good clean fun."  One of the teenagers commented, "I liked hanging out with the college students who were my age. That made me feel important."
According to Pam Sigler, Extension Specialist and one of the faculty coordinators, "It was a great success.  One grandmother who attended with her autistic grandson and granddaughter commented that the day was wonderful! It was also a great chance for HES students from different majors to work together for a common cause that benefited the Lexington community. We are already planning on what we will be doing differently next year, including more physical activity stations."