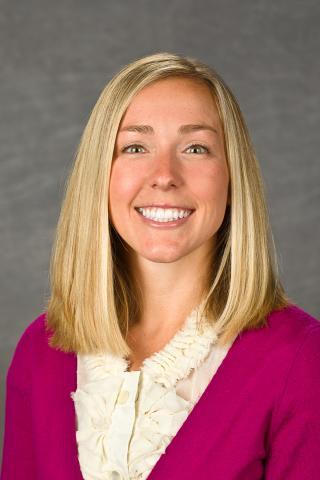 Liz Marshall Combs returned to her alma mater this fall to fill the Department of Nutrition and Food Science's need for a full-time academic coordinator. Having earned both of her degrees in dietetics at the University of Kentucky, Combs is well equipped to advise students in this department.
Combs grew up in Kentucky and began her college education at Asbury University with a major in Media Communications. She discovered a passion for the field of dietetics and transferred to UK as a junior in 2004. She completed a Bachelor of Science in Dietetics in 2007. After a one semester break, Combs jumped back into classes, earning a master's degree in Hospitality and Dietetic Administration in 2009. She now plans to apply for the doctoral program in Family Sciences.
Combs began to develop her mentoring skills as a head swim coach for four years during college. She found she had a passion for helping others reach their goals. "I've always seen myself as a coach, no matter what position I've had," Combs stated.
After finishing the dietetics program, she served as the program assistant in the Department of Nutrition and Food Science from 2008 to 2010.  During this time, Combs also worked at the YMCA of Central Kentucky in the Wellness Department. Once she received her Registered Dietitian credential, the YMCA increased her workload to include creating and teaching her own classes as well as developing weight loss programs for members. You can still find Combs at the YMCA on Saturdays teaching fitness classes. In January 2009, Combs accepted a job at Central Baptist Hospital as an outpatient dietitian and worked there until taking on the role of academic coordinator at UK this past October.
Combs is driven by her passions for education and health. Her mother, father, grandparents, and even her husband of four and a half years have all taught or worked in the school system. "I like seeing people find their niche, light up, and pursue it," Combs stated. As for health and fitness, Combs is an avid long-distance runner and triathlete, having completed one marathon, approximately 10 half marathons, and over 30 triathlons. She also loves public speaking and has presented at the local and state levels.
Combs is enjoying her new position, though she claims it is a little different to return to UK as a peer instead of a student. Enrollment increases in both dietetics and human nutrition helped create the need for the academic coordinator position. Combs says she is very excited to be in this new position. "My biggest goal in life is to empower people, whether through advising students or counseling clients for weight loss," Combs stated. "I try to be a mirror to help them find their own motivation." Combs also realizes that she has the wonderful opportunity to have a strong influence on students' lives. "Many people today struggle with self-doubt," Combs stated. "Sometimes all they need is one person saying, 'I believe in you.' I want to be that person."