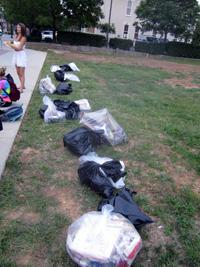 Students in Dr. Jason Swanson's Hospitality Management and Tourism Marketing class recently completed a unique service learning project.  Students traversed the streets of UK's north campus on the night of September 14th picking up trash and recyclables.
The project was conducted in partnership with Keep Lexington Beautiful, the Lexington Convention and Visitors Bureau, and Lexington-Fayette Urban County Government (LFUCG) Waste Management. Keep Lexington Beautiful is an affiliate of Keep America Beautiful and promotes litter prevention, beautification, community improvement, and waste reduction efforts in Lexington-Fayette County.  The organization provided gloves and bags for the project. 
Two guest speakers from these organizations visited the class to encourage the students in their service assignment. Esther Moberly, Program Specialist with Lexington-Fayette Urban County Government Waste Management, talked about what is and is not recyclable in Lexington and explained some of the negative effects litter has on the environment. Patricia Knight, Chair of the Keep Lexington Beautiful Commission and Chief Financial Officer of the Lexington Convention and Visitors Bureau, spoke about the importance of clean streets to the city. She also described how trash on the streets affects the ability of the city to attract visitors.
Dr. Swanson's goal was to teach his students civic responsibility and the importance of strengthening communities. "Litter in a community can have a negative effect on the visitor experience, quality of life for local residents, business revenues, and the desire of potential future residents or businesses to move to an area, in addition to negative environmental impacts," Dr. Swanson stated.
Local restaurants, including Tin Roof, Mellow Mushroom, and Raising Cane's donated gift certificates which were given to the teams who collected the most litter. In total, they picked up approximately 295 pounds of trash and recyclables.