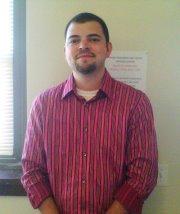 Travis Adams graduated in December 2009 with a B.S. in Family Science. His passion to help people initiated his interest in the family science major and, as he progressed in the program, he focused on the counseling aspect.
Soon after graduation, Travis was promoted from his part-time job. He packed up his whole life and moved four hours northeast to be the marketing manager of Sam's Club in Parkersburg, West Virginia. He applied knowledge gained in family science to his management position. People skills, listening skills and counseling skills all played a big role in how he handled a member base of more than 40,000 people.  After a year, he returned to Lexington to seek a position better aligned with his degree.
After returning from West Virginia, Travis began applying for a position as a Family Resource Coordinator (FRC) or a Youth Services Coordinator (YSC).  As part of his undergraduate experience at UK, Travis interned at Bryan Station High School's Youth Services Center.  He worked directly with kids who needed assistance in breaking non-academic barriers to improve their success in school, and he wanted to return to a position that would afford him similar opportunities. Out of a number of applicants to a position in Scott County, Travis was selected as the top candidate.
Travis realizes that he could not have been chosen for his current position if he had not been a family science graduate. In fact, the job description preferred family science as the degree of choice. Now, Travis claims he has never been more thrilled in his life about his work. Travis is extremely grateful to Dr. Donna Smith for providing him with the guidance, tools and education he needed to obtain a career that he is truly passionate about. His advice to students: "If you're not sure of what you want to do with your career, family science is a great program and provides the tools necessary to lead a successful and personally gratifying life."