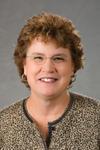 Debra Cotterill was recently named the new director for Extension's Nutrition Education Program, the largest funded project in the Kentucky Cooperative Extension Service.  Cotterill comes to the position after serving 15 years as the Mason County Extension Agent for Family and Consumer Sciences.  She brings to the position a unique skill set honed through her experiences in Extension and prior experience as a business owner and manager.
In her role, Cotterill will direct the Nutrition Education Program, which is operated with federal funds and guided by federal legislation.  Kentucky's program has a long history of providing nutrition education to vulnerable families, and Cotterill looks forward to the opportunity to work with the personnel who have built and continue this legacy.
The School of Human Environmental Sciences welcomes Debra Cotterill to this new role.  Dr. Ann Vail remarked, "We face challenges ahead as we work to maintain our prominence in nutrition education across Kentucky.  I am confident Debra will lead us in navigating those challenges."