The Kentucky Proud project is a collaboration between the School of Human Environmental Sciences, Family and Consumer Sciences (FCS) Extension, and the Kentucky Department of Agriculture to create healthier recipes using local commodities.  Each semester, FCS Extension chooses recipes to be modified by human nutrition and dietetic students enrolled in the NFS 304-Experimental Foods course.  From that list, students are able to pick which recipe they would like to modify, and then  spend four weeks making the dish healthier, yet  appealing and palatable.
The students in the Department of Nutrition and Food Science have had the opportunity to modify and publish recipes over the past two years for the Plate it Up Kentucky Proud Recipe Database Project, and will continue to do so until 2013.  The project began in fall of 2009, when the original grant was received.  "The Plate It Up, Kentucky Proud project provides human nutrition and dietetic students with real-life experience in recipe development.  Students apply the knowledge they are learning in the Experimental Foods class to the Plate It Up project.  Through this project, students also learn more about FCS Extension and can use their knowledge of Kentucky-grown fruits and vegetables to promote health through locally-grown produce," said Dr. Tammy Stephenson, instructor for the Experimental Foods course.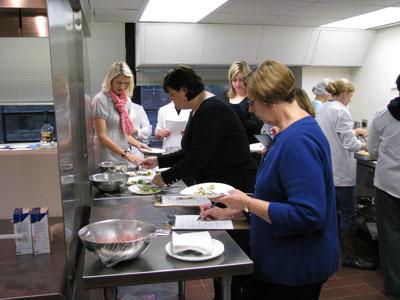 The project provides Family and Consumer Sciences Extension Agents across the state  access to the recipes featuring Kentucky products.  Throughout the semester, agents  visit the Experimental Foods kitchen to sample dishes and provide invaluable feedback to the students.  Because of this, the students are given a better sense of what is expected of them and feel like they are having a positive and direct impact on the community.  Since Kentucky Proud commodities are featured in each recipe, farmers benefit by having their products purchased.  The project helps to unite farmers with the local consumer.  
In previous semesters, some of the recipes that have been selected for recipe cards are: Blackberry Peach Crumble, Asian Asparagus Salad, Watermelon Tomato Salad, and Cucumber, Corn and Bean Salsa.  Extension agents have access to these recipe cards and feature different recipes based on what produce is readily available at the local farmers market.  "Clients love getting the colorful recipe cards and enjoy making the unique dishes featuring locally grown commodities," says Pamela York, Russell County Extension Agent for Family and Consumer Sciences.  The cards feature the recipe on the front and information about the Kentucky grown fruit or vegetable on the back, including nutrition, selection, and preparation information.  Fifty-four recipes have been tested and sixteen are now published as recipe cards.  Contact your Kentucky Cooperative Extension office to request a copy of the recipe cards.