April 17 - 19, 2011, the School of Human Environmental Sciences and the Department of Family Studies hosted a visit by Jake Rademacher, filmmaker of "Brothers at War," in one of their many efforts to boost military family awareness for the campus and greater Lexington community.   The three-day visit included a number of activities designed to engage the community.
On April 17th, Jake was given an opportunity to experience Military Appreciation Day and fellowship with UK student veterans at Keeneland.  Hosted by Ann Vail, Director of the School of Human Environmental Sciences, and Anthony Dotson, Director of UK's Veterans Resource Center, Rademacher enjoyed an afternoon at Keeneland and interacted with military members and veterans in attendance.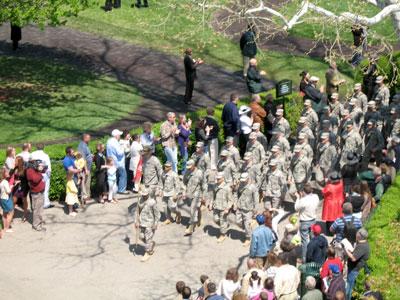 On April 18th, a group from HES and the Veterans Resource Center then traveled with Jake to Fort Knox where they experienced an in-depth tour by Colonel Jeffrey Ogden. A showing of Jake's film then took place in Waybur Theater where more than 700 soldiers gathered to view and discuss the film.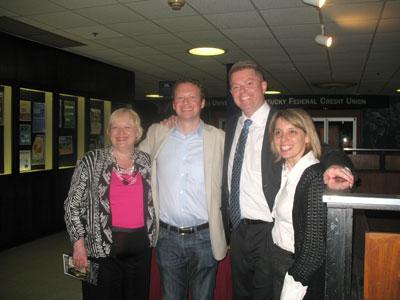 Rademacher's 3-day visit culminated with a full day of activities on the UK campus on April 19th.  After touring campus, Jake participated in a student-faculty luncheon discussion, a visit with the UK ROTC, and a second showing of the "Brothers at War" movie in the Student Center Theater. This event was well attended by UK students, veterans and their families, the Kentucky National Guard, and veterans from the larger Lexington community.
This 3-day event was considered a great success in enlightening students and community members about the challenges that military members and their families face, with many students expressing a desire to see similar events take place on campus. Veterans also appreciated the efforts of the School of HES and the Department of Family Studies to "tell their story" by inviting Jake to show and discuss his movie.