Thirty students in the School of Human Environmental Sciences traveled to Paris, France to study abroad this past spring break. These students were from three different areas of study: family sciences (FS), hospitality management & tourism(HMT), and merchandising apparel & textiles (MAT).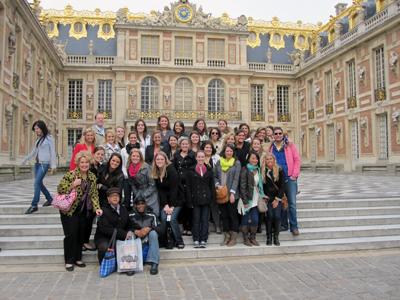 To expose all three groups of students to cultural differences in their area of study, the trip was designed to relate to business structures, employee responsibilities, the impact of culture on these factors and also an exposure to the general culture of the country.  Having all three groups together helped them understand differences in the programs represented as well as cultural differences in the programs in another country. 
"The Paris trip was a unique experience that helped me learn the culture of a foreign country. It was fun to see the different aspects of Paris. The trip helped me get a little idea of what I will encounter when I study abroad next semester," said Karyssa Terhark, one of the thirty students who attended the Paris trip.
HMT students were able to apply their understanding of what they have learned in tourism and hospitality classes to one of the world's most popular tourism destinations, while FS students were able to gain a greater understanding of how differences in culture affect varying aspects of family life.
MAT students broadened their fashion horizon by experiencing one of the world's leading fashion industries and learning about new and upcoming fashions from trend forecasters.
Touring a full-service up-scale hotel, several museums, "old age homes," and many other tourism attractions in France showed how businesses are similar and different from businesses in the United States. 
The trip was a part of an ongoing semester long class offered in the School. Students have spent the first part of the spring semester finishing assigned readings that helped stimulate thought about how the history of Paris affects the current visitor experience. Students will write a final paper to explain what they've learned from a different culture.
There is a lot that goes unnoticed in how we live, but once you see it done differently you become aware of the difference and that was the purpose of this trip: to give students a new and different perspective.