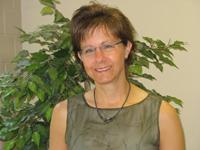 The School of Human Environmental Sciences is excited to welcome Pam McFarland to the Advising Resource Center staff.  Pam joined the Advising Resource Center March 14th and brings to her position  over nine years experience in student services at University of Kentucky.  In her most recent position, Pam was the college services coordinator for the Robinson Scholars Program.
Pam is no stranger to the human environmental sciences degree programs.  She is an alumnus of HES, having earned a B.A. in Family Studies at UK.  She also holds an M.A. in Student Personnel in Higher Education from Eastern Kentucky University.  Pam looks forward to her return to working with students who have the same passion for the career field she chose - human environmental sciences.  She shared the following about her role in higher education, "I believe my greatest accomplishment can be to instill in students a passion for a career or vocation."
Pam will be located in 112 Erikson Hall.  We're delighted to welcome her to the HES Advising Resource Center.