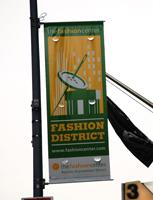 February 23-27, twenty-two merchandising apparel & textiles (MAT) students from the University of Kentucky traveled to New York. The purpose of the trip was to give students a first-hand experience in a world renowned fashion center.
The study tour introduced students to career options, providing first-time personal experiences for many who traveled. For example, students visited the Color Association of the U.S. where they learned of color forecasting. "Forecasting is now another option for the students to explore job-wise," said Dr. Kim Miller-Spillman, associate professor in merchandising, apparel and textiles.
At the Fashion Institute of Technology, students experienced the design lab and explored the exhibits His & Hers and Japan Fashion Now. The His & Her exhibit focused on the relationship between gender and fashion over the past 250 years. While the Japan Fashion Now exhibit focused on how Japanese fashion has evolved in recent years.
The group experienced several additional aspects of New York and the fashion industry. Tours included Central Park, Rockefeller Center, Chinatown, the Metropolitan Museum of Art, Barneys, Women's Wear Daily, and the Fashion Institute of Technology.   A highlight of the trip was attending the hit Broadway show "WICKED." It was certainly a busy but meaningful few days.
Upon graduation, these students will benefit from networking opportunities provided through the trip as they enter the workforce. Not only were they able to make contacts like with Cynthia Rowley, New York fashion designer, but they were also able to get a firsthand look into the world of fashion-a career they wish to pursue.