Those scraps of food you throw away at the end of your meal might seem insignificant, but The Campus Kitchen at the University of Kentucky (CKUK) wants you to know that they add up. As part of its launch week for the Zero Hunger Campaign, CKUK has planned events to increase student awareness about the relationship between hunger and food waste. The Zero Hunger Campaign aims to recruit college campuses across the nation to commit to achieving zero hunger by cutting waste. CKUK's mission of using repurposed food as a tool to strengthen bodies, empower minds, and build communities closely aligns with this campaign.
The first event on Monday, November 12, in partnership with UK Dining, is Weigh the Waste from 11:30 a.m. to 1:30 p.m. at Champions Kitchen in the Gatton Student Center. Volunteers from the Campus Kitchen will literally weigh the waste on each diner's plate and total the amount of food wasted at the dining hall during lunch. At the last Weigh the Waste event in Champions Kitchen, each student on average threw out .19 pounds of food, totaling 166 pounds in just two hours, said Cora Kerber AmeriCorps Vista for 2018-19.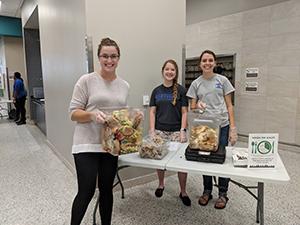 "It's all about awareness," Kerber said. The Campus Kitchen wants to increase students' awareness of food waste, and volunteers will be asking students to sign a pledge to join the Zero Hunger Campaign in fighting hunger by reducing and repurposing food waste. The goal for launch week is to have 200 students sign that pledge along with five student organizations.
On Tuesday, November 13, CKUK student leaders Seth Biedenbender and Morgan Barnette will lead a panel discussion on food waste and Zero Hunger following the screening of the food waste documentary Just Eat It.  This screening, hosted by UK dining, UK Sustainability, and UK Recycling, begins at 5:30 p.m. in the AA Auditorium at the W.T. Young Library.  
Events wrap up on Wednesday with Farm-to-Fork Friendsgiving from 11 a.m. to 1 p.m. in Funkhouser 207 and another Weigh the Waste event at Fresh Food Company in The 90 from 11:30 a.m. to 1:30 p.m.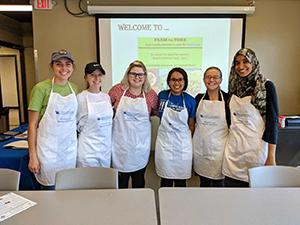 If you would like to volunteer for any of these events or for The Campus Kitchen visit vhub.at/ckuk. "You can even sneak in for 15 minutes to do dishes, and that's a big help," Kerber said.
For more information on Zero Hunger, visit uspirg.org/feature/usp/zero-hunger, and for information on the Campus Kitchen, visit dhn.ca.uky.edu/ckuk.