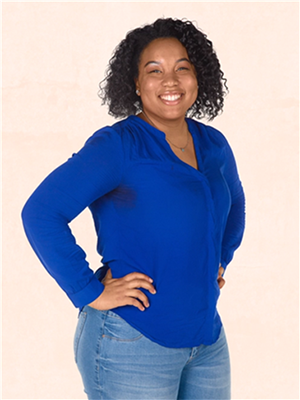 Imani Conwell is a junior majoring in hospitality management and tourism. During the spring semester, she participated in the Transformative Travels course and spent one week traveling in Kentucky at the end of the semester. She shares her experiences.
On May 6th 2018, I embarked on a week-long journey to explore Western Kentucky with 9 other students, our professor, a graduate teaching assistant, and a 5-person television production crew.  Our journey was produced as a six-episode television series for KET (Kentucky Educational Television).  The travel experience was part of a class I took in the spring semester, which was GEN 300-Transformative Travels: Exploring Kentucky.
My adventure started at the end of the 2017 Fall Semester. My professor, Dr. Swanson explained to me how he would be teaching a class in the spring about transformative travel, which is about the impact that travel can have on travelers.  And at the end of the semester, he would take his students to tour parts of Kentucky. Dr. Swanson then inquired if I would like to apply for the program because he thought I would be a good addition. I was surprised at first because I never thought a professor would want me to take part in something like this. I rarely spoke in class and I was only a sophomore. I thought I would be inexperienced in knowledge about tourism, but I applied anyway. What helped me decide was that this experience might open my mind to the tourism side of hospitality. During the semester, we learned about transformative travel concepts and what it takes to be cast members on a travel show documentary. Flash forward to the end of the semester to where I'm packing a suitcase to explore Kentucky.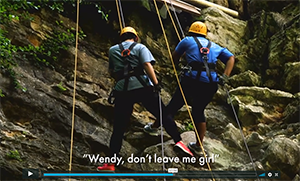 From the moment we got on the bus on the first day, to the end of the week, it was a non-stop thrill ride. One highlight was the first destination, which was Horse Cave, Kentucky – a small town with only one main road leading to the downtown area. The town is famous for its Horse Cave, named after its Horseshoe shaped opening. Due to the weather, the cave was flooded, so we couldn't explore deep into it, but we did go ziplining and repel off of it. I had been ziplining before and it was fun, but repelling sounded so terrifying. I didn't want to do it because it wasn't something I did; I didn'treally do life threatening activities.The repelling instructors then said that we would go in pairs which pushed me to do it because I could at least do it with somebody. I was still nervous as it was getting closer and closer to my turn with Wendy, my partner. The descent was gradual and torturous. I had to trust the rope and lean back and move down two steps at a time.  At one point I was frozen, unsure where to put my feet next and I shouted, "Wendy don't leave me, girl!" Being the good person that she is, she stayed with me and coached me until we reached the ground. I learned the true meaning of how important it was to support each other that day because we were all going through new and scary experiences.
After the first day, I was curious of what I got myself into, but as the week went on that apprehension turned into excitement. Throughout the week, we travelled to businesses and attractions and learned about tourism. We stayed in cabins at Kentucky State Resort Parks during the week, where the other students and I got to know one another while playing games and on one late night shopping run. I had a lot of fun and saw so much that opened my eyes to new perspectives. One highlight was when we went to Kenny's Farmhouse Cheese in Austin, Kentucky. There we learned how they make cheese, raise the cows to get milk, and how they turned their farm into a tiny hotel where tourists can stay when visiting the farm. By seeing how Kenny's operates on a daily basis, I have a new appreciation for the work that they do. Making cheese is a really messy and stinky job, and Kenny loved his craft. We helped make cheese curds with Kenny and I can tell he loved what he did.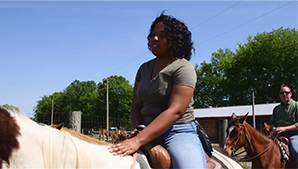 Another highlight I will never forget was when we visited Land Between the Lakes where our activity was horseback riding. It was a new experience for me, like repelling, but the difference being I actually told Dr. Swanson I wasn't going to do ride a horse. However, when we got there, I gave myself a reality check. After my classmates tried to persuade me to get on a horse, I realized that this whole trip was about experiencing new things and allowing them to change me so I shouldn't be scared. The instructor then introduced me to "Country", the oldest horse at the ranch, and told me to get on one leg at a time. After I got on Country, he began to move, almost robotically and got in line with the other horses. My nerves began to calm as I kept reassuring myself that these horses have probably done this so many times, almost like a routine, so nothing bad will happen to me. The ride turned out to be so relaxing and fun. When it was all said and done, I ended up being sad we didn't do a longer trail.
Reflecting on that week we were traveling, I'm glad Dr. Swanson came to me and I asked me to apply for the class. I thank God to this day. As the only African American student, I was traveling with a crowd I normally wouldn't hang out with and doing activities I normally don't do, specifically as a black person. I admit to feeling like it wasn't going to be socially acceptable for me to be riding a horse or repelling off a cave, especially for all my friends and family to see on television. I can hear my friends telling me, "Black people don't do that," or "Those white people made you do that," and I can assure you they will joke about it when they see me on the documentary. Deciding to act on my curiosity, I concluded it wasn't about skin color, it was about traveling to different parts of the state and learning about the community – and learning about myself. It was about how the destinations' tourism adds to Kentucky's tourism as a whole.  We got to show people that as we filmed the journey.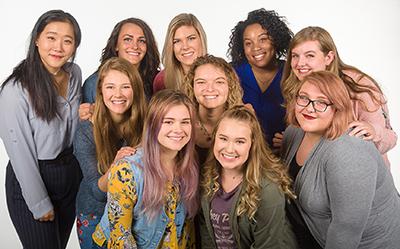 I also changed into a different person due to my mind finally becoming open. Tourism is such a beautiful thing because you explore the aspects beyond a restaurant and hotel. I no longer see Western Kentucky as a place for hillbillies to thrive. I chased difficult experiences, spent time enjoying the destination and understanding the lifestyles of the local communities. I also think we left something good behind. I hope our interest in learning about these places has made these small towns feel special. We as travelers left something good behind because we left memories of first time experiences, went to places where we were transformed, and we got to know each other in these places, making lifelong friendships as we became transformative travelers.
Transformative Travels: Exploring Kentucky is a six-episode television series produced for KET based on the travels of 10 University of Kentucky students in Dr. Jason Swanson's spring 2018 class.  The theme of the class and the TV show is how travel can be transformative for the traveler.  Travel can change how people view themselves and the world around them.  Travel can be a source of challenge and inspiration as people learn about communities, cultures, and characters.  Click here to watch the TV show's trailer. < https://youtu.be/ur8C27DnqlU>
Executive Producer of the show is Doug High, an Emmy-award winning filmmaker based in Lexington.  Organizations outside of the College of Agriculture, Food & Environment that provided support for the television program include the Kentucky Department of Agriculture, Kentucky State Parks, the Bowling Green Area Convention and Visitors Bureau, the Paducah Convention and Visitors Bureau, Ariat Brand Shop-Lexington, and the Kentucky Film Office.