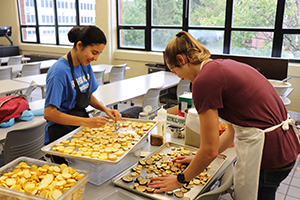 The Campus Kitchen at the University of Kentucky (CKUK) was founded in 2014 with the goal of reducing food waste while providing healthy meals to those struggling with hunger. Since its inception, student leaders in CKUK have recovered 20,802 pounds of prepared food, including nearly 7,000 pounds of fresh produce, and served 13,462 meals to those without regular access to healthful, affordable food. 
In its fifth year, the CKUK has expanded operations to seven days per week, with volunteers engaged in gardening, food gleaning, food preservation, meal preparation and/or meal service each day. Leadership for the CKUK is provided through the Department of Dietetics and Human Nutrition, with faculty and staff advising and mentoring student leaders.
Cora Kerber, AmeriCorps Vista for 2018-2019, is working directly with the student leaders this year to coordinate the CKUK activities. A 2017 graduate of Transylvania University, Cora has a passion for food and the environment, with interests in cooking, hiking, gardening, and running. She shared, "The passion our student volunteers have for addressing the issue of food waste and combatting food insecurity in our community is truly inspirational. The Campus Kitchen provides them with the means to put those passions into action."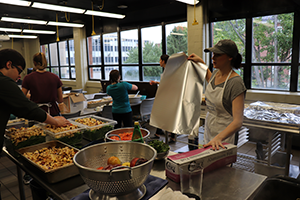 The Campus Kitchen recruits volunteers throughout the semester, and students from all colleges have engaged with this service work. Student leadership and volunteers are the backbone of operations. Each shift (gardening, food recovery, cooking and meal delivery) is run by shift captains. In addition, a seven-member executive committee provides overall leadership for the CKUK. Shayna Holloway, a senior majoring in Human Nutrition, is serving as the Operations Coordinator for the CKUK this year. A fourth year volunteer, Shayna shared, "Watching volunteers gain skills and grow in their positions has been rewarding. I have enjoyed interacting with like-minded people, working with food and providing a service to the community."
Students interested in volunteering can learn more about the many opportunities and sign-up for one or more shifts at vhub.at/CKUK. The number and type of volunteer shift available each day of the week varies, and many of the shifts provide an opportunity for students to gain skills while providing a community service. For additional information, follow the CKUK on social media @CKKentucky or contact campkitchenatuk@gmail.com.