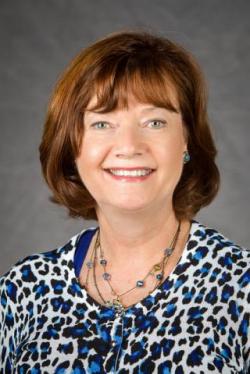 Nancy Kelley
Western KY Area Nutrition Agent

248 Brown Badgett Bldg.
2000 College Dr.
Madisonville KY 42431

Nutrition Education Program
Professional Profile
Nancy Kelley is the Western Region Area Extension Agent with the Nutrition Education Program at the University of Kentucky. She is stationed at the UK Research and Education Center in Princeton KY .
Nancy began her Extension career in 1981 briefly serving as Robertson Co. Extension Agent for Home Economics. From 1995 to 2014 she served as Hopkins County Extension Agent for Family and Consumer Science, until joining the NEP team as an Area Agent. She has supervised EFNEP, CYFAR, and SNAP-Ed programs as a county agent, and served as co-chair of the Extension Marketing committee for over 5 years.
She is a member of Gamma Sigma Delta, KEAFCS and National Extension Association of Family and Consumer Sciences (NEAFCS). Awards received include the NEAFCS Southern Region New Professional Award, Distinguished Service Award and Continued Excellence Award, and the Mid-Career Award from the Alpha Kappa chapter of Epsilon Sigma Phi.
Nancy is married to Bob, a broadcaster in Madisonville, and they have a daughter Katherine.
Education
M.S.
Murray State University
Organizational Communication
B.S.
University of Kentucky
Home Economics with a concentration in Textiles, clothing, and Merchandising