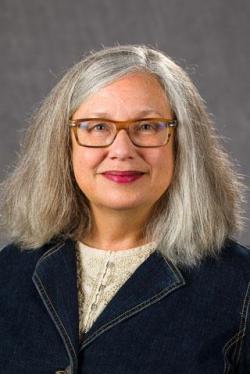 Janet Mullins
Extension Professor

(859) 257-3707
206J Funkhouser Building
Lexington KY 40506-0054

Dietetics and Human Nutrition
Professional Profile
Dr. Janet L. Mullins joined the College of Agriculture in 1997 as a Food & Nutrition Specialist. She is a native of Ballard County, Kentucky and a UK Alumnus. Her academic appointment as an Extension Professor is in the Department of Dietetics and Human Nutrition. She works to translate research into consumer and community programs promoting healthy eating. She has interest in program evaluation, program development using a multi-disciplinary approach and socio-ecological model, food systems, healthy weight, and sustainable eating.
As an active member of the Partnership for a Fit Kentucky, she collaborates with Kentucky Department for Public Health to facilitate environmental and policy changes that reduce risk of obesity. She works to strengthen local food systems and access to healthy foods. As a participant in Universities Fighting World Hunger, she works on campus and with other colleges and universities to incorporate hunger advocacy into academic and outreach programs. She teaches graduate courses in community program development and food systems, as well as leading an Education Abroad course to Ghana in West Africa.
Dr. Mullins received a B.S. in Dietetics with High Distinction from University of Kentucky and is a Registered Dietitian. Her M.S. in Food Science is from University of California - Davis and her Ph.D. in Nutrition and Food Science is from Kansas State University. In 1986, she was honored as Kentucky Recognized Young Dietitian of the Year and in 2002 as Outstanding New Extension Specialist. In 2003-04 she served as President of the Kentucky Dietetic Association. In 2007, she was received a Centennial Future 100 Award for recognition as a leader for the next 100 years by the School of Human Environmental Sciences. She collaborates with others on grant projects sponsored by the Centers for Disease Control and Prevention, National Institutes of Health, and US Department of Agriculture.
Research
Socio-Ecological Approaches to Community Food Extension Programs
Extension Program Evaluation
Use of Qualitative Methods to Increase Access to Healthy Foods
Obesity Prevention in Rural Communities
International Hunger & School Meal Programs
Course Instruction
HES 300-710 - Chocolate, Farming, and Fabric: Working with Families in Ghana, West Africa (Education Abroad)
DHN 603 – Advanced Community Program Development 
DHN 605 - Food Systems and Society
Education
Ph.D. Kansas State University Food Science
M.S. University of California Food Science
B.S. University of Kentucky Dietetics
Areas of Interest
Academics, Extension