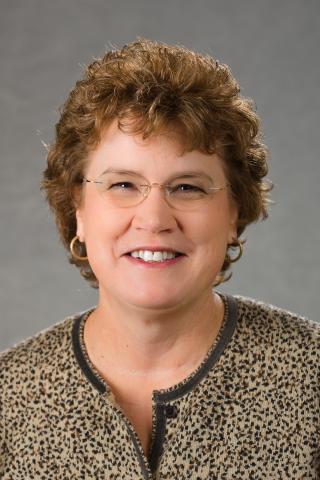 Debra Cotterill
Director Nutrition Education Program

dcotteri@uky.edu
Phone (859) 257-2948
Fax (859) 257-2990

Nutrition Education Program

1500 Bull Lea Rd. Suite 130
Lexington KY 40511
Professional Profile
Debra Cotterill is the Director of the Nutrition Education Programs at the University of Kentucky.  Prior to assuming this role, she worked for 15 years as the Mason County Extension Agent for Family and Consumer Sciences.  Her experiences also include community college instructor and entrepreneur.
Debra received both her B.S. and M.S. in Merchandising, Apparel and Textiles from the University of Kentucky.  Her research was Rural Kentuckians: Effects of e-Commerce on the Acquisition of Food and Fiber Products.  Through her position as a Family and Consumer Sciences agent, Debra taught and contributed to the development of educational materials in nutrition, food safety, textiles, clothing and wardrobes, family financial security and entrepreneurship.  She also served as an advisor to Extension volunteers and regional entrepreneurs.   Her work included community development, budget management, program impact and supervision.  Debra has received the Distinguished Service, Continuing Excellence, Research and Communication Awards from National Extension Association of Family and Consumer Sciences.
In August 2011, Debra was named Director of Nutrition Education Programs in Family and Consumer Sciences Extension. As the director, she provides administrative leadership for the USDA-funded Expanded Food and Nutrition Education Program (EFNEP) and the Supplemental Nutrition Assistance Program Education (SNAP-Ed). Under her leadership the Nutrition Education Program curriculum has been revised and expanded, social marketing campaigns have been launched, and program evaluation has been enhanced.  In addition to direct and indirect education, the Kentucky Nutrition Education Program has developed the capacity to support policy, systems and environment changes to improve the nutrition practices of Kentuckians. Debra works with program staff, Extension clientele, key stakeholders and funding agencies to improve quality of life for Kentucky citizens.  She has directed improvements to program operations and provided critical oversight for program expansion. 
In addition to her work with NEP, Debra has served on various School, Extension and college committees. She is co-chair of the advisory committee for the Family and Consumer Sciences Extension Legacy Fund and a member of the advisory board for the UK Plaid Project.
Education
M.S.
University of Kentucky
Merchandising, Apparel and Textiles
B.S.
University of Kentucky
Clothing, Textiles, and Merchandising
Areas of Interest
Extension