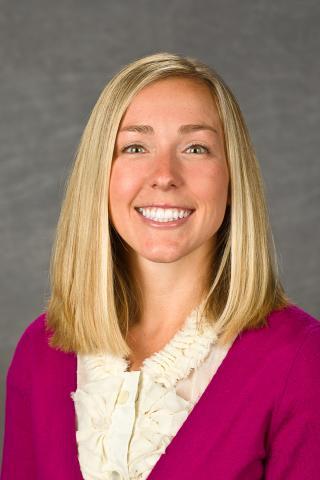 Liz Combs
Lecturer & Coordinated Program Director

liz.marshall@uky.edu
Phone (859) 257-9209
Fax (859) 257-3707

Dietetics and Human Nutrition

209A2 Funkhouser Building
Lexington KY 40506
Curriculum Vitae


liz_combs_cv_2017.pdf
Professional Profile
Liz Combs joined the Department of Dietetics and Human Nutrition in October 2011 as Academic Coordinator. In August 2013 she transitioned into a faculty role as lecturer in the DHN Department. Liz is also the Director of the Coordinated Program. She still provides advising support and academic counseling to upperclassmen in the department.  She is also a registered dietitian as well as licensed dietitian.
She is a UK alumnus with her undergraduate degree in Dietetics and Food Science and her graduate degree in Dietetic Administration. She also completed her dietetic internship with the University of Kentucky in 2007. Liz is currently pursuing an Ed.D. in Health Promotion through the College of Education at UK. She is interested in researching sources of nutrition information and their relationship to parenting styles and childhood health.
Liz's background is in outpatient nutrition services and weight management counseling, and she holds a national certification in childhood and adolescent weight management. Liz is a member of the Academy of Nutrition and Dietetics, Kentucky Academy of Nutrition and Dietetics and the Bluegrass Academy of Nutrition and Dietetics. She serves on the board of the Kentucky Academy of Nutrition in Dietetics.
Course Instruction
DHN 312 - Life Cycle and Community Nutrition I
DHN 313 - Life Cycle and Community Nutrition II
DHN 374 - Research and Writing in Dietetics 
DHN 514 - Counseling and Communication in Dietetics.
Education
M.S. University of Kentucky Dietetic Administration
B.S. University of Kentucky Dietetics and Food Science
Areas of Interest
Maternal and Child Nutritional Health Literacy