Name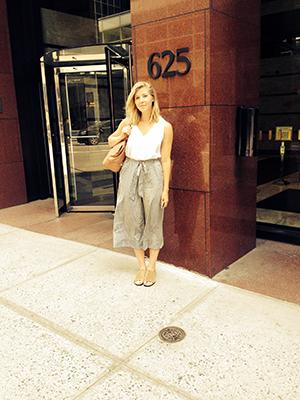 : Anna Coke
Major: Merchandising, Apparel and Textiles
Expected Graduation: 2016
Where are you completing your internship? Stuart Weitzman in New York City
What is your 'typical' day as an intern?
On a typical day as an intern, I meet my boss at a Stuart Weitzman store in New York City. We usually remerchandise the windows and the store, and then take pictures of the changes. I make a report of the store we changed and send it out to executives in the company, all the Stuart Weitzman stores and store managers in America. In addition, I complete a variety of other tasks that my boss needs completed, including creating expense reports, taking care of inventory for stores or generating other reports that need to be sent out.
How are you using and applying classroom knowledge in your internship?
I am using knowledge from my merchandising class (such as use of color, design principles etc.) in the merchandising of stores. I am also using knowledge of branding from my brand management class by always thinking about the brand and what it says and what it is supposed to say. Additionally, I am using knowledge of basic skills (such as powerpoint) that I have learned and used in many of my classes.
What is one key thing you have learned during your internship?
One key thing I have learned from my internship is to always listen to everything and ALWAYS write EVERYTHING down. You will be given so many different tasks to do, and having to ask to have things repeated isn't professional. If you could share one piece of advice for other students who are preparing to complete an internship, what would it be? Work as hard as you possibly can and never complain. Always look for something extra you can do and go above and beyond in everything.