Internship Spotlight: Taylor Strause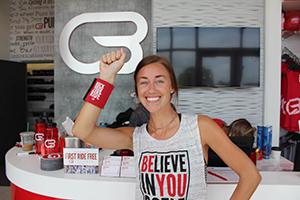 Name: Taylor Strause
Major: Merchandising, Apparel, and Textiles
Expected graduation date: May 2018
Internship Location: CycleBar at Fritz Farm in Lexington, KY
Please describe your typical day as an intern:
Each day at the CycleBar is unique. I love how I have many responsibilities that allow me to keep busy and be involved in multiple parts of the business. CycleBar is an indoor cycling studio. Within our cycling studio, we have our CycleBar Boutique, which is my main focus and responsibility. I also help with handling any events that our studio may be attending or planning. Since each day is unique, I will spend some days helping within the studio, but the coolest component of my internship is that I get to basically build our CycleBar boutique on my own. Being able to order and fill our boutique with apparel and merchandise that I choose is so cool to me. It's a huge responsibility, but it's so much fun. Each day I pay attention to our customers and notice what type of apparel they are wearing into the studio when they come to take a cycling class or what type of apparel most of our customers are purchasing from our studio and what I need to order more of in the future. This helps me understand our customer's preferences better so that I can get a better idea of what merchandise to offer in our boutique.
How are you using and applying classroom knowledge in your internship?
During my time in this position, I have had to apply my classroom knowledge to many things! I am so blessed that my classes have well-educated me on how to take inventory, analyze trends, order products, and make displays. This vast merchandising knowledge is what landed me the responsibility of the CycleBar boutique. It is exciting to put my skills to the test, especially since I am really into health and fitness, but I also love merchandising and apparel. I am grateful to have been presented with the opportunity to be involved with both. My ability to run the store successfully based on my merchandising education has made this dream a reality.
What is one key thing you have learned during your internship?
One thing I have learned during my internship is how to handle a large amount of responsibility without stress. When I work somewhere, I want to love what I am doing there. Naturally, when I first started at CycleBar, I was stressed out and worried that my job was too much for me to handle. Now, I have learned not to doubt myself and what I am capable of doing! I have also learned to ask questions. Asking questions is not a bad thing, and it does not make me look uneducated for not knowing something. The more questions I ask, the more information I find out and the better I can do my job.
If you could share one piece of advice for other students who are preparing to complete an internship, what would it be?
The advice I would give is to make sure you are interning somewhere that has an uplifting environment. Also, make sure you are going to truly enjoy your time as an intern with this company. Make sure your internship is going to help you grow, learn, and become a better you!