Internship Spotlight: Shannon Mitchell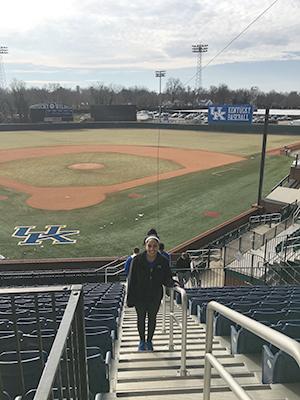 Name: Shannon Mitchell
Major: Hospitality Management and Tourism
Expected Graduation: May 2016
Internship Location: University of Kentucky Athletics Event Management
What is your 'typical day' as an intern?
During a typical day I set up for different University of Kentucky sporting events such as track and field, gymnastics, women's basketball, baseball and softball. I arrive at my internship three hours before the event begins. It is my responsibility to put A-frames, wind signs and barricades in the correct locations outside. I also set up the indoor arena based on which sporting event is taking place that day. During the event, I help with coordinating and making sure the visiting team has anything they may need. I also make sure the event is running smoothly and that the fans are not doing anything they shouldn't be doing. I am in charge of unlocking and locking the visiting team locker room throughout the meet. After the event, I assist with signing out the staff and cleaning up signs, cones, fencing, flagging and barricades outside.
How are you using and applying classroom knowledge in your internship?
I have applied classroom knowledge by using what I learned about customer service techniques and communication skills when dealing with fans at several different sporting events.
What is one key thing you have learned during your internship?
One key thing that I have learned during my internship is that paying attention to detail is the
most important thing when in the event management industry.
If you could share one piece of advice for other students who are preparing to complete an internship, what would it be?
One piece of advice I would share with future interns is to always come to work prepared to learn something new and to try to be better than you were yesterday.