Internship Spotlight: Olivia Rebella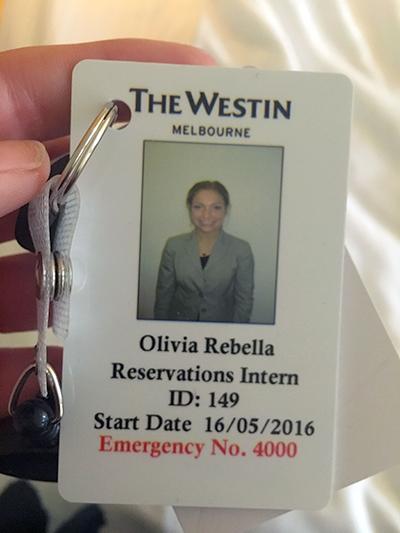 Name: Olivia Rebella
Major: Hospitality Management and Tourism
Expected Graduation Date: May 2017
Internship Location: The Westin Melbourne, Melbourne, VIC, Australia
Please describe your typical day as an intern:
I spend time responding to communications from guests and travel agents. I also process reservations arriving by e-mail, telephone, fax or the hotel management software. I check the room availability based on the reservations; maintain records by date of arrival; and process advanced deposits. I update the guest's information, solve guests' requests and take care of filing. It's important to stay in communication with corresponding hotel departments.
How are you using and applying classroom knowledge in your internship?
I am applying the information I learned about the departments of other hotels in order to have a better understanding when I am dealing with different departments other than reservations.
What is one key thing you have learned during your internship?
I have learned a lot more about the computer system called Opera... which is used in most hotels.
If you could share one piece of advice for other students who are preparing to complete an internship, what would it be?
Go into it open minded. It might not be everything that you had originally thought it would be, but in the end it is a great experience.  You will learn a lot, and you will make great connections.