Internship Spotlight: Mila Hudson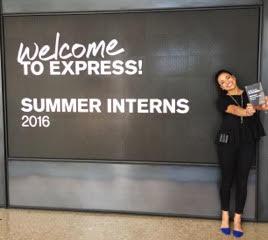 Name: Mila Hudson
Majors: Merchandising Apparel & Textiles and Integrated Strategic Communication
Expected Graduation Date: May 2017
Internship Location: Express Home Office, Columbus, OH
Please describe your typical day as an intern:
There's nothing really typical about my day. The days vary based on the cycle of fashion. Each day is a build up to adopting new styles for upcoming seasons. As a merchandising intern, my role was typically to handle physical samples of clothing for my department, which was woven tops. Each day I gather samples of clothing to pass off to our cross-functional teams like marketing, public relations, visual merchandising, production, technical design, or to mail to our designer in New York. All of these departments need the samples for advertisements, fittings, or setting the merchandise in a mock store. As a result of this unique role and varied tasks, I was able to learn to juggle multiple responsibilities at once. I learned how to manage the hundreds of samples, completed a few small projects for the associate merchants, participated in multiple production planning meetings and fittings, and met the CEO. Each week I met with people from other aspects of the company to learn about their roles in the business. There are gatherings with all the interns and "lunch & learns" where we sit down and listen to various heads of departments about different sectors of the business. Throughout the span of my internship, I also found time to work on my intern project. With this project, I had to present how the CEO can attract a younger customer.
How are you using and applying classroom knowledge in your internship?
I used basic key terms from merchandising classes regarding the supply chain and different textiles. Since doing an independent study for the textile lab, I was able to recognize a lot of the equipment and procedures in the color lab at Express too, which was really cool!
What is one key thing you have learned during your internship?
The most important thing I learned is time management. I've always been very organized but the corporate world is a very different place, and business won't slow for you. It's important to keep a schedule and stick to it because that's the only way to make sure everything gets done! Everyone is busier than you, so it's crucial to respect their time, and they will do the same for you.
If you could share one piece of advice for other students who are preparing to complete an internship, what would it be?
It is essential to use your resources! As an intern you are there to experiment, and it is so important to reach out to as many people as possible. This will help you understand all the possibilities in the field. Also, I found it valuable to ask as many questions as possible because that is how I learned so much!