Internship Spotlight: Michaela Mineer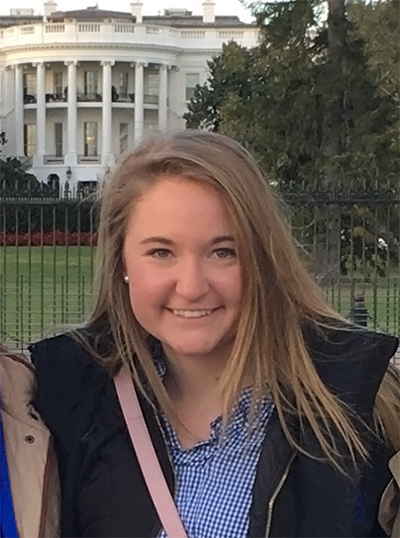 Name: Michaela Mineer
Major: Family Sciences
Minor: Community and Leadership Development
Expected Graduation Date: May 2018
Internship Location: Family, Career and Community Leaders of America National Headquarters in Reston, VA
Please describe your typical day as an intern:
Each morning I would begin with networking. This may seem like an unusual approach, yet I found that by starting my day by speaking with the staff around the office, I made more connections and started off the day in a positive way. After making my rounds through the office, I would check in with my direct supervisor, the Director of Communications. Quickly, the two of us would go over what the priorities were for that day, and I would update her on the progress and completion of any tasks. After this morning routine, I would know exactly what needed to be done that day. The tasks usually involved emailing state advisors and national officers, creating documents for the national officer elections, preparing scripts for the National Leadership Conference, and communicating with the officer candidates about the election process.
How are you using and applying classroom knowledge in your internship?
Since it was my job to work with the National Executive Council and the National Officer Candidates, I found myself using a lot of the knowledge I learned in my minor, Community and Leadership Development. Intrapersonal communication, understanding the differences in each person's leadership style, and time management were concepts I applied each and every day.
What is one key thing you have learned during your internship?
During the 10 weeks I spent in this internship I learned more than I ever imagined. One specific thing that I walked away remembering is the importance of details. In my role, I learned how the small details that go into the National Executive Council's scripts, the planning of the general sessions, and the lesson plans and workshop materials really do play an essential role in the overall success of the National Leadership Conference. I have always been a perfectionist, yet this summer I learned how to work in a faster paced environment while remaining focused on the little details.
If you could share one piece of advice for other students who are preparing to complete an internship, what would it be?
My advice would be to ask questions. My supervisor always emphasized that mistakes happen, yet it is essential to turn the mistake into a learning experience. For me this came through asking questions. Asking questions not only allows you to brainstorm solutions, it also facilitates growth and expresses to your employer that you are there to learn.