Internship Spotlight: Michaela Henderson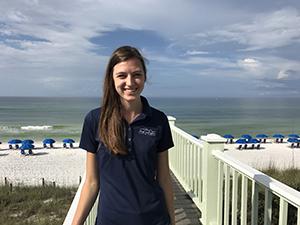 Name: Michaela Henderson
Major: Hospitality Management & Tourism
Expected Graduation Date: May 2018
Internship Location: Cottage Rental Agency in Seaside, FL
Please describe your typical day as an intern:
A typical day at Cottage Rental Agency begins with opening the front office. Once the office is open, I begin making the packets that guests receive upon arrival. These packets include their paperwork, maps, and any codes their cottage requires. As the guests arrive, it is my job to check them in and make sure they have everything they need to get into their cottage and have a successful vacation. Throughout the day, I am attending to people's needs or questions when they call or stop by the front desk. Sometimes, the guest just needs a recommendation for a good place to eat. Other times, they have more serious needs such as maintenance or housekeeping needs. In this case, I have to communicate with the proper departments to make sure their need is met.
How are you using and applying classroom knowledge in your internship?
Most of our guests spend a very short period of time at the front desk. Since they are in and out so quickly, I only have a short window of time to make a good impression. In this short period of time, smiles and kind words go a long way. It is also important to be as efficient as possible to make their experience go quickly and smoothly.
What is one key thing you have learned during your internship?
Communication is everything. In order for a day to run smoothly at a business, especially a customer service business, it is important to communicate well with both guests and coworkers. In my experience at Cottage Rental Agency, whenever an issue arises it is almost always due to a miscommunication and could have been avoided if proper communication had been used. My manager always likes to say you can never communicate enough!
If you could share one piece of advice for other students who are preparing to complete an internship, what would it be?
Keep an open mind on where you do your internship. I had my heart set on doing and internship at a certain company, but on a whim, I applied to Cottage Rental Agency. Even though I got the job at the company I had originally wanted to work at, I took the job with Cottage Rental Agency, and I am so glad I did! Make sure you apply to a lot of places because you never know what doors may open up.