Internship Spotlight: Leah Bunch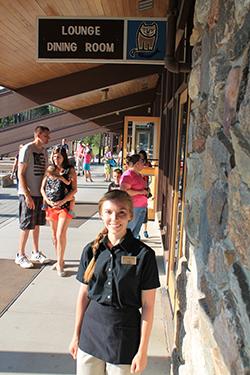 Name: Leah Bunch
Major: Hospitality Management and Tourism
Expected Graduation: May 2016
Where are you completing your internship?
Canyon Lodge Dining Room in Yellowstone National Park
What is your 'typical' day as an intern?
I typically work two shifts a day and strive to provide the very best customer service to my guests.
How are you using and applying classroom knowledge in your internship?
I am applying table turning information to maximize the amount of tables that I have per shift. I am also applying up selling knowledge.
What is one key thing you have learned during your internship?
Seasonal locations have an interesting dynamic, they have to train differently and it has to be executed well to run smoothly.
If you could share one piece of advice for other students who are preparing to complete an internship, what would it be?
Apply to many places and for may positions as possible. I am so thankful I am completing my internship in Yellowstone National Park. I have learned so much about the hospitality industry in one of the most beautiful places in America.