Internship Spotlight: Lauren Winkler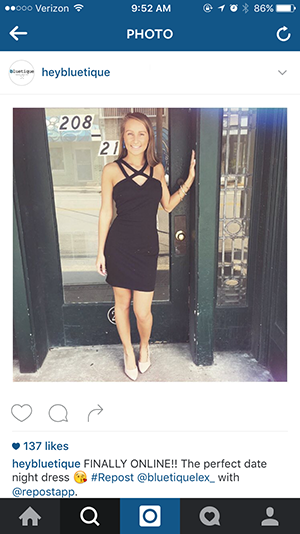 Name: Lauren Winkler
Major: Merchandising, Apparel and Textiles
Expected Graduation Date: May 2017
Internship Location: Bluetique, Lexington, Kentucky
Please describe your typical day as an intern:
Each day at Bluetique is a little different. I have taken over managing social media outlets, and I work with shipment and inventory management. I also cover as a manager when the store manager is not available. On a typical day, I could be working in the store with other employees and customers doing normal selling and maintenance of the store. On another day, I could be in the office shadowing the marketing manager and giving input for the next post. Some days, I work receiving shipments and updating our inventory in our computer system. Each day is something new and exciting!
How are you using and applying classroom knowledge in your internship?
I am using a lot of what I have learned in marketing at my internship. I am able to identify my target market to make sure all our social media posts are targeted towards them. I also am able to help with some buying decisions by making suggestions and keeping track of what customers really love and want.  Keeping up with trends and suggesting them to our buyers is a huge part of Bluetique's success. This is something that I have learned in many of my merchandising, apparel and textiles classes.
What is one key thing you have learned during your internship?
One key thing I have learned during my internship is to really know and understand how to work with your target market. There are so many aspects that make a business successful.  However, if your marketing materials are not interesting to your client or your merchandise is not up to date with the most current trends, your business will not be nearly as successful. You have to know how to sell, buy and market to your customers.
If you could share one piece of advice for other students who are preparing to complete an internship, what would it be?
Keep an open mind, ask questions and learn as much as you can! It is important to know that it is okay to ask questions and be willing to see and experience many new things.