Internship Spotlight: Lauren Watkins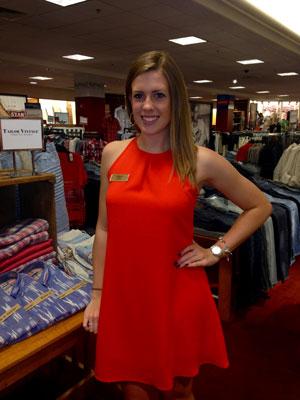 Name: Lauren Watkins
Major: Merchandising, Apparel and Textiles
Expected Graduation: May 2016
Where are you completing your internship? Dillard's at Fayette Mall (Lexington, Kentucky)
What is your 'typical' day as an intern?
As an intern, I am shadowing the department manager and performing the same duties. This includes pushing product, managing markdowns, going to meetings with upper level management, scheduling, supervising sales associates in my department, rearranging merchandise and updating visuals, sending out transfers and handling customer issues.
How are you using and applying classroom knowledge in your internship?
The knowledge I have used most during my internship is visual merchanding. I use what I have learned to create visually appealing displays and to dress mannequins with color to help increase sales. I also have a better understanding of human resources and business concepts we address daily at Dillard's.
What is one key thing you have learned during your internship?
I have learned the importance of speaking up and being confident in your opinions. Although I'm a summer intern, my opinion is valued. The manager I work with provides me a lot of freedom to complete tasks because my thoughts can bring a new idea or option to the table that may work better for our store. As a result, I've had the confidence to speak up to the store manager. Now, he's interested in using my ideas, and that's very rewarding.
If you could share one piece of advice for other students who are preparing to complete an internship, what would it be?
Have an open mind. You never know who you will meet and what kind of doors will open for you after an internship. So, work hard because you only have one summer to make a good impression!