Internship Spotlight: Jazzmine Collins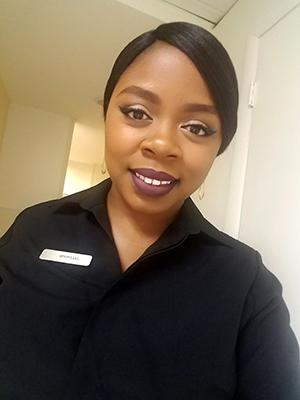 Name: Jazzmine Collins
Major: Hospitality Management and Tourism
Expected graduation date: May 2018
Internship Location: Griffin Gate Marriott Resort and Spa in Lexington, KY
Please describe your typical day as an intern:
A typical day would be coming into work, grabbing a B.E.O. (banquet event order) and finding out which event I'm working. Once I find that, I turn to the page that has my event listed and start making lists of everything I'll need to get the room set-up and ready before the event starts. For instance, if it is a large group, I will need a group of servers. If it is a small group, I'll usually be by myself with a temporary worker and captain. After my event is over and I have cleared the room of trash and dirty dishes, I start to refresh and build any coffee breaks needed for the next day.
How are you using and applying classroom knowledge in your internship?
Classroom knowledge that has come in handy was the basic knowledge of hotels. In our hospitality courses we learned management techniques and methods for completing different tasks that we may face. I have used these skills when I am assigned to a task and have been able to expand upon them as I learn in a real life setting.
What is one key thing you have learned during your internship?
One thing I have learned how to do is balance time with last minute changes. This job keeps you on your feet. If we need to make a change before or during one of our events, I learned that I must be willing to quickly adapt and go with the flow to pull off a successful event.
If you could share one piece of advice for other students who are preparing to complete an internship, what would it be?
My advice would be to do as much research on your internship position as possible. Ask as many questions as you need, and make the most of your internship opportunity. Just because your internship is in one department doesn't mean you can't shadow other departments to gain experience and to see what you like and dislike.