Internship Spotlight: Harrison Greenberry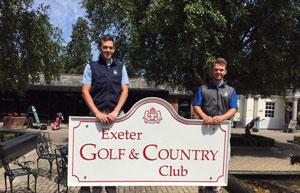 Name: Harrison Greenberry
Major: Merchandising, Apparel and Textiles
Expected Graduation: May 2016
Where are you completing your internship? Gary Milne & Golf at Exeter Golf and Country Club (Exeter, Devon, England)
What is your 'typical' day as an intern?
My day at the Club begins with remerchandising the shop to give it a fresh appearance each day. The majority of my morning, I am providing customer service to the guests of the shop and also ensuring the merchandise is well stocked and making notes of low inventory. Occasionally, during downtime, my manager will ask me to review new apparel and offer advice as to what merchandise he should stock in the coming year.
How are you using and applying classroom knowledge in your internship?
I have had the opportunity to use the skills learned to make displays and how to properly use manequins and pin clothing in an attractive and professional way. That has been very beneficial as I have had to make many displays at the shop displaying apparel. In addition, I took a class about different types of fabrics, which has been an asset in this intership. Because I now understand which fabrics would be best to sell and why, I have been able to explain to customers why it would be better for them to buy a certain item of apparel due to it's fabric capabilities.
What is one key thing you have learned during your internship?
I've learned that customer service is critical. It's so important not only to be professional when dealing with customers, but to be friendly. Taking the time to get to know them and assist them in the best way possible can make the difference in them shopping in your store or going somewhere else.
If you could share one piece of advice for other students who are preparing to complete an internship, what would it be?
Be efficient at the tasks you're given, be polite and work very hard. It might be frustrating getting "the dirty" jobs in the beginning. However, the key is not to complain. When they see that you are doing your job, not matter what it is, without complaining, they will be more inclined to give you better opportunities in the future, including a permanent position after your internship.
Additional Comments:
Choose your internship wisely, because it is a great way of getting a full-time job at that company if they like the way you work.