Internship Spotlight: Erin Maher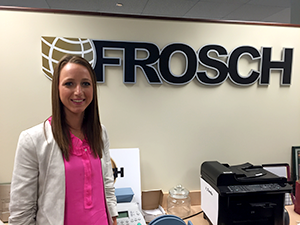 Name: Erin Maher
Major: Hospitality Management and Tourism 
Expected Graduation Date: May 2017 
Internship Location: FROSCH Travel, Deerfield, IL
Please describe your typical day as an intern:
The first thing I do when I get to the office is check my email and get caught up with things that I have from the previous day. I then complete a lesson on Signature University, a site that helps with booking hotels, cruises and land. The site also gives FROSCH travel agents special amenities for their clients when booking through them. After I finish that, I sit in on a vendor meeting from various different groups - hotels, tour operators, cruise lines, etc. My next task is to staff the front desk, answer phones and process mail. In the afternoon, I have appointments with various agents to assist them with their client work. I prepare comparisons between different companies, call to get prices and air, and book reservations. After I am finished with those projects, it is usually the end of the day.

How are you using and applying classroom knowledge in your internship?
Revenue Management has been a course that has come up a lot in the travel industry. The timing of when to go to a certain area when the prices will be cheaper or more expensive and what type/brand of hotels tend to be in the more expensive category. It has been very helpful to have that class because it helps me better understand the concepts the agents are discussing.

What is one key thing you have learned during your internship?
I have learned many things during my internship. I did not realize the age group that primarily uses travel agents. The older generation seems to be key, at least at my location. Additionally, I have learned a lot about the computer and how to use multiple programs that I never had experienced. The major thing I have learned, though, is that I would not want to choose the travel agent career path. Although it has been fun learning about different places of the world, I am not a person to be at a desk all day every day. I like movement and this does not have that. I originally chose this because every day is different and you never deal with the same thing, but I do not think it is for me. That is the main thing I have gotten out of this, but I believe that is what an internship is for - to see if you could do this for the rest of your life or not, and I have accomplished that.

If you could share one piece of advice for other students who are preparing to complete an internship, what would it be?
Try something you did not think you would ever do! I personally never saw myself as a travel agent, so I thought I would try it because I have the passion to travel. It is really cool to see an aspect that you have never seen yourself doing, and some times that may be for the better. You never know where you will end up. How do you know you do not like something until you try it?