Internship spotlight: Ellen Waymire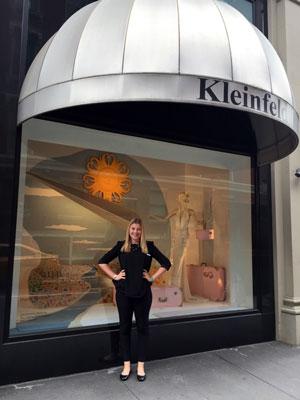 Name: Ellen Waymire
Major: Merchandising, Apparel and Textiles
Expected Graduation: December 2016
Where are you completing your internship? Kleinfeld Bridal - Kleinfeld Paper Division (New York, New York)
What is your 'typical' day as an intern?
I begin my day by always arriving 15 minutes early each morning. We have morning meeting upstairs with the bridal department, which I will occasionally attend to hear about new trends and the daily agenda. I then check voicemails, pass along any notes from the previous night or from the morning messages, check the calendar, check the email and organize my supervisor's desk before she arrives. When we have an appointment, I will fill out an appointment sheet prior to the customer's arrival and pull out any styles that they had noted were of interest. Once my superivors arrives, we plan out the goals of the day and what needs to be accomplished. Most days consist of going back and forth with the designers and print shop to determine the status of orders, previewing and finalizing the invitation proofs and inputting new orders. When my services are not needed, I usually try to take the intiative and work on future projects to keep my supervisor thinking ahead. Occasionally, I will research reviews on social media and consider how to improve our small business.
How are you using and applying classroom knowledge in your internship?
The most applicable skill that I am applying to my internship is visual display skills. I have created displays to attract customers and visually represent the capabilities of Kleinfeld Paper. I have applied marketing techniques as well to promote the business.
What is one key thing you have learned during your internship?
Managing accounts is the greatest tool that I will take with me. I have had sales experience, some visual experience and customer service experience, but never taking appointments, inputting orders, following through with orders and seeing the finished product. No matter what part of the industry I choose to pursue, I know that this will be a unique and vital skill that I will possess.
If you could share one piece of advice for other students who are preparing to complete an internship, what would it be?
Take the initiative. Although I often feel as if I am an executive assistant, the way that I have been able to work on accounts and have input during appointments is because I have proven to my supervisor that I am capable, willing and eager to be more hands-on and leave a lasting impact. I want to prove to her that I can take on more responsibility. Being on top of each task is my way of doing so.
Additional Comments:
For my next internship, I am going to look for something that is more hands-on and challenging. The CFO of The Knot told us that if you are not learning and having fun, then you need to switch jobs. I am certainly having fun, but I would like to be challenged more and feel as if I've accomplished something great.